Executing a Successful Furniture eCommerce Website Launch
Melissa Verea, Alfred Verea, & Chuck Botts of the Executive Team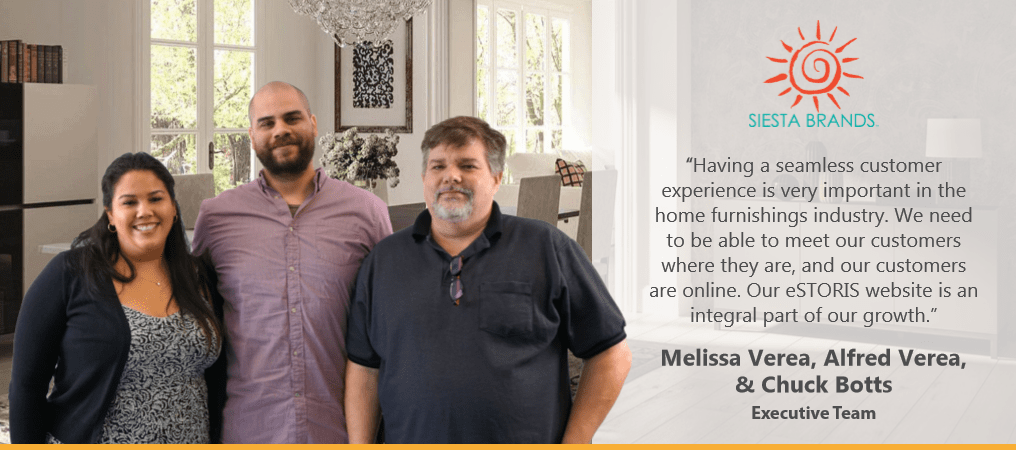 Motivating Factors
In 2019, multi-store retailer, Siesta Brands was looking to enhance their in-store technology. Some of the pain points they wanted to resolve included stronger inventory management, better system-wide reporting, and a more user-friendly interface.
The retailer's emphasis on installment and revolving financing also provided unique requirements for their software search. Siesta Brands was looking to enhance their financing processes including integrating finance applications and credit checks at the Point of Sale. Collections is another key part of operating a financing program. Siesta Brands was looking for detailed collections reporting and the ability to sell insurance.
Anticipating eCommerce Expansion
As they began the discovery process, a new priority shifted into focus. Siesta Brands realized that their goal was to create a seamless customer experience across their stores and a new eCommerce website that they were looking to launch. Siesta Brands was looking for an expedient execution to get their eCommerce website into the market. Integration of the two platforms quickly rose to the top of their list. If they were going to revitalize their entire technology infrastructure, choosing a partner that would allow them to expand their brand online would start Siesta Brands off on the right foot.
An Investment in Customer Experience
Overall, Siesta Brands chose STORIS because they delivered the software features that they couldn't find elsewhere. They had confidence seeing that STORIS' functionality meets the needs of many retailers in the home furnishings and bedding industries, yet they could also tailor the solution to meet Siesta Brands' specific business model.
Ultimately, the eSTORIS integration was a huge factor in Siesta Brands decision to partner with STORIS. The website team, led by Alfred and Melissa Verea, was excited to design and develop a strong website for the company. The eSTORIS website provided a modern platform at an affordable price point with direct integration to their in-store software.
"Having a seamless customer experience is very important in the home furnishings industry. We need to be able to meet our customers where they are, and our customers are online. Our eSTORIS website is an integral part of our growth." Melissa Verea, Alfred Verea, & Chuck Botts of the Executive Team
Executing a Successful Website Launch
Siesta Brands approached their website project with organization and efficiency. They were strategic in having both Alfred and Melissa, of their in-house team, dedicated and focused on launching in a timely manner. In fact, their inventory organization helped them to launch their website from scratch in 4 months. This involved collaboration with their eSTORIS project manager. As soon as they were advised on a next step, each executed on key aspects of the project. Alfred ran inventory reporting from STORIS and built out product imagery, while Melissa created store information and worked on Spanish language translations. Each week, they would check in with their eSTORIS project manager to prioritize initiatives for a smooth launch.
An Enhanced eCommerce Experience
Siesta Brands' previous website was not operable and they were relying on Facebook to try to engage their customers. This made it difficult to give customers prices and availability of items. Now that is all easily accomplished on their eSTORIS website. Their customers are using the website to communicate with the brand. "We are so excited to provide our customers with a website that looks nice and is easy to navigate," noted Alfred. From their team's perspective, the eSTORIS administration dashboard is extremely useful for managing customer activities and interest. Siesta Brands is just getting started with their website. Their next phase is to help their customers, particularly those utilizing financing, to create accounts in order to make online payments. That is one of the features they are most looking forward to.
System-Wide Inventory Control
Having a precise picture of their inventory across Siesta Brands' stores and website is imperative to success. They were previously held back by inventory issues such as inadequate margin reporting, difficulty with inventory adjustments, and errors with inventory availability and stock quantities. Now, Siesta Brands has the ability to accurately show their customers inventory that they have in stock or that they can special order, both in-store and online. They can also use As-Is statuses for specific inventory tracking. "Being able to sell items, even if they are not on our showroom floor has been one of the best parts of having a functioning website," commented Alfred.
A Partner on Their Side
When you are expanding a business, opening new stores, and launching eCommerce, you need a supportive partner in your corner. Alfred commented, "STORIS provides the quality of support our business deserves. There is an extensive, knowledgeable team behind STORIS' solutions." Siesta Brands previously dealt with a provider with a small team and it impacted the service they received. When it came to software issues, they would often take days or weeks to get responses to their questions and concerns. With STORIS, they knew they would get support when they needed it. Alfred stated, "both our STORIS and eSTORIS project managers were awesome: easy to work with and extremely helpful as we learned the ins and outs of getting our retail software and eCommerce website initiatives up and running. Our STORIS partnership adds value to our business."
"In the short time our eSTORIS website has been live, ShopSiesta.com has already experienced more traffic to our website. The new features we are able to offer via our website and the accuracy of inventory information across our company directly enhances our customer experience." Melissa Verea, Alfred Verea, & Chuck Botts of the Executive Team
Whether you are operating an established eCommerce site or need help creating your first website to sell furniture, the STORIS eCommerce team is here to help! Fill out the form to discover why eSTORIS is the leading furniture retail eCommerce provider.
Fill Out the Form to Learn More
About Siesta Brands
Founded in 2005, Siesta Living and Siesta Sleep are family-owned and operated furniture stores, serving middle Tennessee's Spanish-speaking community. They strive to provide their community with the respect and excellent customer service they deserve. Siesta Brands offers a variety of products to meet the needs of each individual customer throughout every stage of their lives. Their employees make sure that each customer is listened to and has their needs met. Siesta Brands stocks high-quality products at various price points and with the styles that their customers want. Their recent venture into eCommerce, via ShopSiesta.com, further expands their ability to serve their customers. Siesta Brands operates by their motto, "Change Your Furniture, Change Your Life!"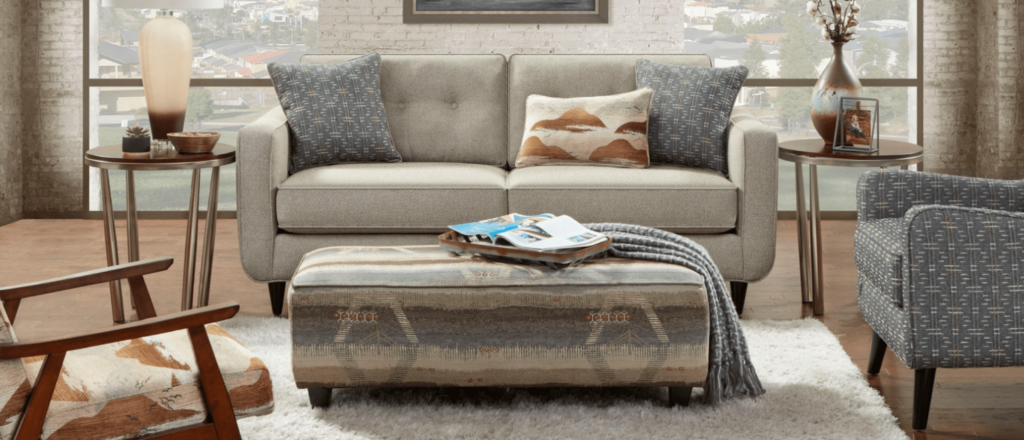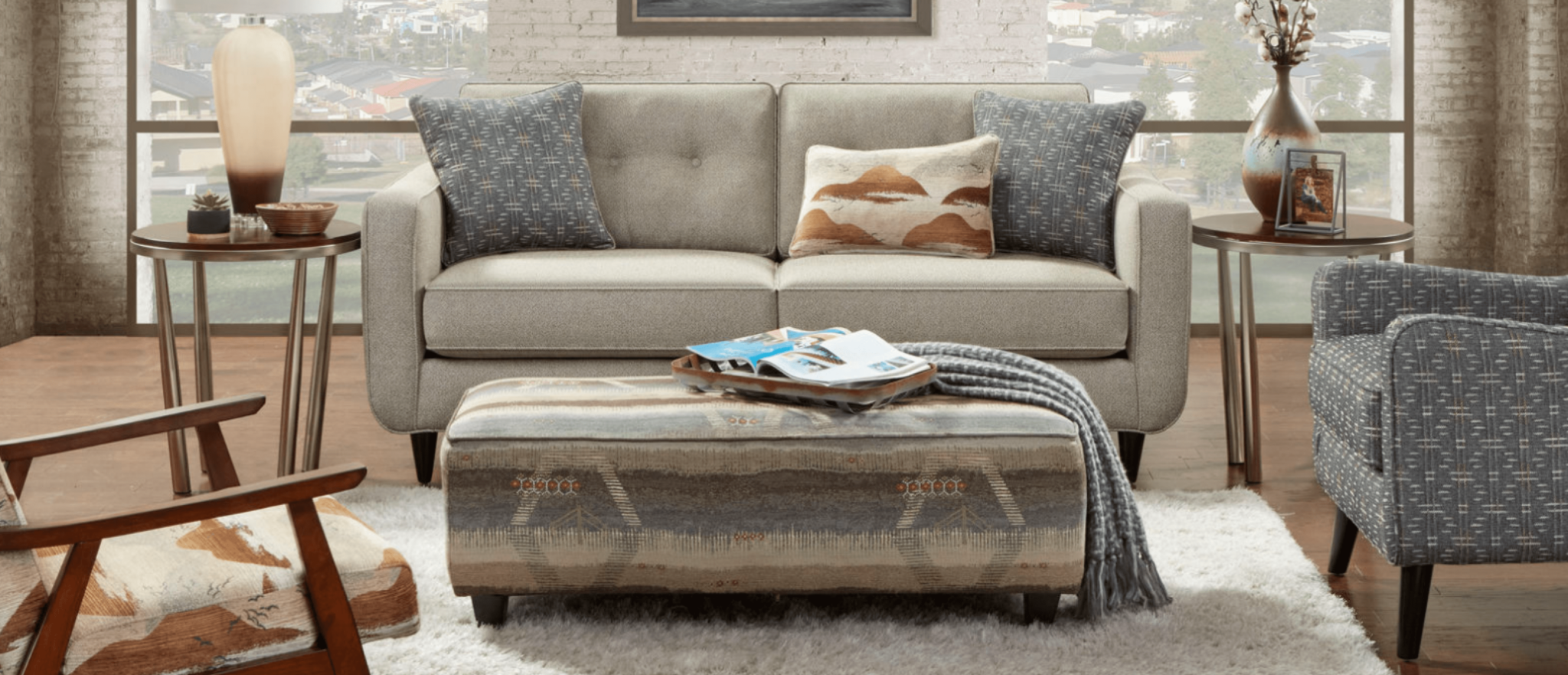 When you choose , you get more than an industry-trusted retail software solution. You get the know-how of our team of experts, superior service, and opportunities for growth. Use the form below to learn what can do for you.