Patio, Pool, Spa, & Hearth! Software for Every Aspect of Your Casual Furniture Business
STORIS has been dedicated to home furnishings retailers for over 30 years, and the casual furniture industry is no exception. Our goal is to deliver fully integrated tools that make daily activities more efficient, provide valuable insights, improve staff productivity, and save valuable time, all of which enable you to concentrate on growth.
With focused industry software experience, our development team designs features important to maintaining a competitive advantage in the casual furniture marketplace.
STORIS Casual Retail Software Features
Servicing Retailers Big and Small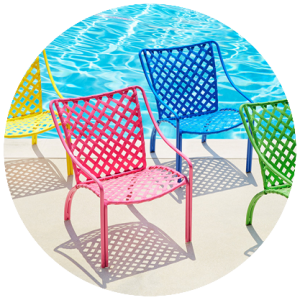 Our entire client base is rooted in the home furnishings industry and this includes casual retailers big and small. The casual industry's iconic designer, Brown Jordan recently launched their retail division. They chose to power this new initiative with STORIS due to our experience working with casual retailers.
"Because STORIS works with casual furniture retailers, everybody on the STORIS team understands what we are talking about. We feel we are part of an ecosystem of similar retailers with similar challenges."
Here are some of the casual industry's favorite tools:
Sales Order Entry
STORIS can handle sales order processing of multiple types of products. Use our complete sales order process for big ticket items such as patio sets, and our quick sale feature for cushions. In one order, you can have multiple forms of fulfillment including deliveries and take-withs. This enables you to meet customer and inventory tracking needs effectively.
Generic SKU Logic
STORIS uses Generic SKU Logic to track sales of a base frame – no matter how you customize you make to the item. This allows you to report on the performance of special order products and discover design trends that customers gravitate towards.
Enhanced Special Order
Our Enhanced Special Order Technology allows you to easily configure Special Order sales and purchase orders. Templates streamline the creation of a custom product at the POS. Templates can be defined globally, or by vendor, category, group, or SKU. Customizable attribute fields are unlimited and can be open text or pre-built selection options. Retailers can choose to use pre-defined pricing or a Pricing Scratchpad to input price variables to determine a final product price.
Soft & Hard Kit Builder
Selling products that come with preferred hardware or components? STORIS' Kit Builder allows you to group products that are typically sold together for ease at the Point of Sale. A soft kit allows you to add, remove, or substitute different components to the kit, while a hard kit is always sold together as a single unit.
Just in Time Inventory Management
JIT optimizes valuable warehouse space while increasing turns by using lead time forecasting to have inventory available for customer demand. Accurately monitor inventory in real time, from the warehouse to customer delivery.
Mobile Technology
Give your customers that "vacation-like" experience they crave when shopping for their outdoor oasis. With the STORIS mobile product suite, you can service your customers from anywhere in your store for a relaxed shopping experience.