Discover Options to Connect Your eCommerce Website and Retail Technology Seamlessly
eCommerce is a thriving channel in the home furnishings and appliance industries. Retail websites are the starting point for research in almost every sale. Websites are a place for customers to begin browsing their favorite options, complete online orders, and manage post-purchase interactions. Today, to execute a truly successful website strategy at all points along the customer journey, integration with your stores and distribution centers through your central ERP is paramount.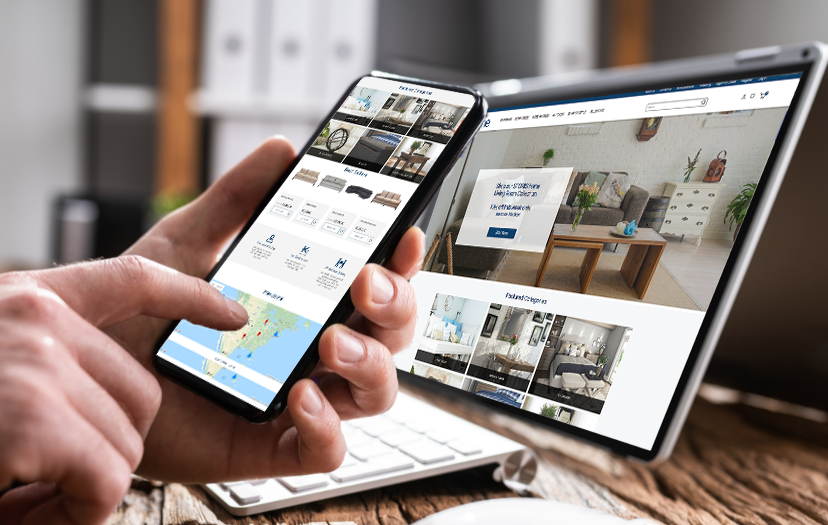 Top Reasons Why an Integrated Furniture Website Is an Asset to Your Retail Strategy
Integrating your eCommerce platform and ERP solution is essential in today's home furnishings retail market. It allows retailers to be adaptive to customers embracing more channels and devices as they shop.
Promote Seamless Cross-Channel Brand Recognition
Build Strong Customer Relationships & Experiences
Drive Traffic to Your Retail Stores to Grow Revenue
Increase Cross-Channel Conversions

STORIS Offers Flexible Options for Your Retail eCommerce Solution
Whether STORIS can support the development of your eCommerce website on our eSTORIS platform or with a third-party website integration via STORIS APIs, our eCommerce team is here to help you ensure you have a thriving online presence.
Discover STORIS' Retail eCommerce Integration Options
Which of These Two Paths to eCommerce Solution Success Is Best for Your Brand?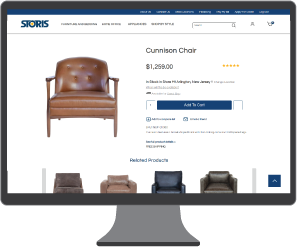 For retailers looking to reinvent or build a furniture website, eSTORIS is a complete website solution.
The eSTORIS platform is the best website platform for home furnishings because of its direct integration with STORIS' Unified Commerce Solution. STORIS developers know STORIS retail software inside and out, making the ability to integrate with a retailer's eSTORIS website seamless and reliable. The eSTORIS website platform is a successful technology solution supporting multi-million dollar eCommerce websites for independent business owners and Top 100 retailers alike, including American Furniture Warehouse and W.S. Badcock.
Retailers can build a third-party eCommerce website integration empowering retailers to practice a Unified Commerce strategy.
Choose the retail eCommerce platform that is right for your digital strategy or maintain the existing third-party website you've invested in while benefiting from STORIS integration capabilities. Developed with parallel functionality to STORIS' ERP and alignment with eSTORIS, retailers can build seamless customer experiences across channels using STORIS APIs. They Successfully execute an advanced eCommerce strategy, including managing inventory, customers, and orders. Our easy-to-use API documentation is ideal for your engineers.

The Value of Furniture eCommerce Websites
There are many ways that retailers can execute an eCommerce strategy for their business. What is most important is to focus on this critical channel. Customers have moved beyond simply using home furnishings eCommerce websites to browse for initial merchandise selections. Today, home furnishings websites serve an abundance of critical business functions.
Browsing
Powerful digital merchandising on your website is critical to being in the running with shoppers. The majority of customers research the retailers they want to shop with and narrow down their favorite selections on your website. Strong design and intuitive navigation create a favorable impression of your brand. Your website is also where customers will find your locations and in-store selections for planning showroom visits.
Self-Service
Your service reps are busy catering to pressing customer needs. Your website can streamline their workload, allowing the focus to be on high-priority service issues while directing your customers to independently manage routine tasks with the account management area of your website. These tasks can include tracking open order statuses, scheduling and confirming deliveries, looking up product details, or submitting reviews.
Buying
Did you know Statista estimates online home furnishings sales are around $150 B? Elements like accurate product information and imagery, recommended products, a frictionless checkout, financing options, and credit card security help make your home furnishings website an attractive place to capture business, either exclusively via this channel or after a showroom visit.
Payments & Financing
Customers may have open balances or financing plans with your business that require payments to complete their purchases. Having online portals to facilitate efficient and secure online payments supports your customers in successfully managing their open finances while ensuring you collect your owed receivables. Providing a portal for your customers to review their payments and upcoming invoices is valuable to self-service.
Performance Analysis
A centralized eCommerce strategy provides the ability to track and analyze the effectiveness of your digital website efforts in relation to your business as a whole. Analyzing your website with Google Analytics provides insights to increase revenue and drive performance accountability. Tracking key performance indicators, like visitor traffic, average value per transaction, engagement of website visitors, and cart abandonment rates, provides powerful insights for decision-making.
Digital Marketing and SEO
Search Engine Optimization (SEO) encompasses the tactics to drive traffic and users to your website. It involves using your website analytics and strategizing on how to rank high for your desired keywords on Google. It is vital to ensure your website platform positions your business for strong SEO. Things to account for are mobile-first optimization, responsive design, clean sitemaps, simple URL structures, metadata plugins, image alt tags, ADA accessibility, and technical site speed performance.

Which Home Furnishings eCommerce Solution Is Best for You?
Unsure? Our eCommerce Experts Are Here to Help
Learn More
Discover STORIS' eCommerce solution options available for you to operate a successful home furnishings retail website.
Fill Out the Form to Learn More