Furniture Queen Expands Business
The Challenge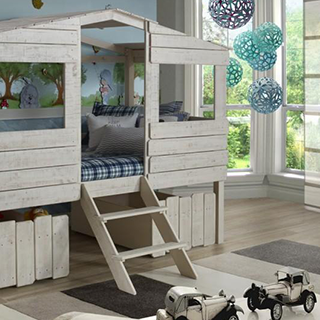 Furniture Queen started as an online business catering to small towns. The company took off as their retail concept proved to meet the needs of their target consumer. This included the successful opening of their physical store. The manual processes that once worked to keep the business organized were no longer easy to manage as they expanded. In order to support her plans to grow Furniture Queen, Melissa Ward knew she needed to invest in technology.
Take One
At first, Melissa decided to try a generic software application typically known for accounting. Once processing live on this system, Melissa realized that the capabilities did not solve most of Furniture Queen's challenges. A big reason was that the software was not specifically designed for a furniture retailer. In addition, without the support of an implementations team, the conversion proved to be a tedious and fruitless process.
"STORIS has accomplished exactly what I wanted for Furniture Queen. Our previous system was the cause of a lot of problems. With STORIS, our business is more organized, efficient, and we have happier customers." Melissa Ward
The Ultimate Solution
Melissa quickly decided to find another software solution. As she began the search for new software she knew it was vital to look for one that was furniture industry-specific. She came to the evaluation process with a well-thought-out breakdown of the pain points of her business and was determined to find a solution that would address them. She found that in STORIS. Furniture Queen's implementation to STORIS was much more seamless than the prior conversion. The open communication with a dedicated project leader and training resources available through STORIS helped Furniture Queen find many opportunities for success.
Thank you for taking the first step to learning how STORIS' Retail Software Solutions can serve your retail business.
Top 5 Benefits Furniture Queen Gained From STORIS Software
Operational Organization
Running a successful retail operation requires the organization of data from inventory quantities to customer profiles and sales history. With the controls found in STORIS, Furniture Queen has database accuracy. They even found areas where they were losing money due to gaps in previous processes, which STORIS resolved.
Business Intelligence
Once data is organized, the intelligence that can be uncovered is incredibly valuable. Furniture Queen is able to glean analysis to capitalize on best sellers and monitor inventory performance to generate strong margins. They also enjoy using the intuitive Custom Report Builder to analyze data specific to their business in real-time.
Process Efficiency
Running your own business requires a time commitment. Business owners can really benefit from time-saving software features. Trying to keep up with manual processes uses valuable resources that are better spent focusing on business strategy and operations. STORIS helped Melissa manage Furniture Queen's processes through seamless automation across Point of Sale, Inventory Management, Merchandising, Logistics, and more.
Enhanced Customer Service
Furniture Queen has been able to satisfy more customers thanks to better inventory control. They know precise quantities available for each product, where all merchandise is located, and can even reserve products for specific sales orders. Successfully fulfilling orders and delivery in the time frame customers expect builds brand loyalty.
A Reliable Partnership
One of the biggest benefits of STORIS to Furniture Queen is the client services provided. From the beginning of their implementation, STORIS provided guidance on best practices, and in-depth user training to ensure a successful launch. With STORIS, retailers are not just handed a software application. They are guided by industry experts to make sure they get the most out of the technology.
"When evaluating software, I paid attention to the details important to running Furniture Queen. STORIS met all the requirements of our company and then some. STORIS even has features that were new to our business that I could not live without now. The control features have helped my business find areas to save money and become more profitable." Melissa Ward
About Furniture Queen
Furniture Queen was founded by Melissa Ward in 2002, with the dream of making beautiful furniture accessible to customers in rural areas of Texas. Furniture Queen originally started as an online eBay shop, catering to an area where access to furniture shops required a lengthy trip. With low overhead costs, Furniture Queen delivers savings to consumers as well, with prices up to 70% below those of competitors. In 2006, Melissa decided to take Furniture Queen omnichannel with the opening of their brick and mortar location in Katy, Texas. Their retail store delivers the brand's exceptional service and savings to the local Houston area. They now also have an eCommerce website that continues to deliver quality items at unbeatable prices.


When you choose , you get more than an industry-trusted retail software solution. You get the know-how of our team of experts, superior service, and opportunities for growth. Use the form below to learn what can do for you.