Discover Options to Connect Your eCommerce Website and Retail Technology Seamlessly
eCommerce is a thriving channel in the home furnishings and appliance industries. Retail websites are the starting point for research in almost every sale. Websites are a place for customers to begin browsing their favorite options, complete online orders, and manage post-purchase interactions. Today, to execute a truly successful website strategy at all points along the customer journey, integration with your stores and distribution centers through your central ERP is paramount.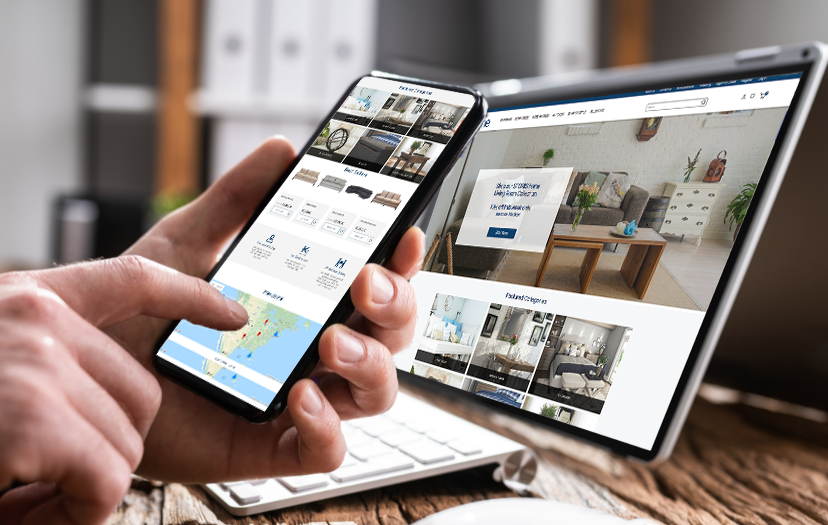 At STORIS, We Offer Flexible Options for Your eCommerce Strategy
Whether STORIS can support the development of your eCommerce website on our eSTORIS platform or provide integration via our eBridge Commerce API solution, our eCommerce team is here to help you ensure you have a thriving online presence.
Discover STORIS' eCommerce solution options available for you to operate a successful home furnishings retail website.
eCommerce Options Demo Request
Two Paths to eCommerce Success: Which Is Best for Your Brand?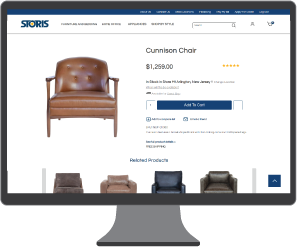 For retailers looking to reinvent or build a furniture website, eSTORIS is a complete website solution.
The eSTORIS platform is the best website platform for home furnishings because of its direct integration with STORIS' Unified Commerce Solution. STORIS developers know STORIS retail software inside and out, making the ability to integrate with a retailer's eSTORIS website seamless and reliable. The eSTORIS website platform is a successful technology solution supporting multi-million dollar eCommerce websites for independent business owners and Top 100 retailers alike including American Furniture Warehouse, Haynes, and W.S. Badcock.
eBridge Commerce is a web API integration solution empowering retailers to practice a Unified Commerce strategy.
Choose the eCommerce solution that is right for your digital strategy or maintain the existing third-party website you've invested in while benefiting from STORIS integration capabilities. Developed with parallel functionality to STORIS' ERP features as well as alignment with eSTORIS, retailers using eBridge Commerce can build seamless customer experiences across channels. With eBridge Commerce, you can successfully execute an advanced eCommerce strategy including managing inventory, customers, and orders. Our easy-to-use API documentation is ideal for your engineers.

Discover Other Levels of API Integration for Furniture Websites
Product Read
Product Read is STORIS' introductory option for retailers that are beginning to integrate their store and website strategies. Focused on product data, this fundamental integration allows a retailer to seamlessly update their website's product data, pricing, and availability from their centralized STORIS inventory.
Buying Group Interface
Expanding upon Product Read, the Buying Group Interface adds sales order, quote, and payment integration capabilities for retailers ready to launch a true eCommerce integration. STORIS has existing collaborations with our Buying Group partners to streamline out-of-the-box integrations to association-led website platforms.

The Value of Furniture eCommerce Websites
There are many ways that retailers can execute an eCommerce strategy for their business. What is most important is to have a focus on this critical channel. Customers have moved well beyond simply using home furnishings eCommerce websites to browse for initial merchandise selections. Today, home furnishings websites serve an abundance of critical business functions.
Browsing
Your website and powerful digital merchandising are critical to being in the running with shoppers. The vast majority of customers research the retailers they want to shop with and narrow down their favorite selections based on your website experience. This is also where customers will find your locations and in-store selections while planning a showroom visit.
Self-Service
Your customer service reps are busy catering to pressing customer needs. Your website can streamline their workload, allowing the focus to be on high-priority service issues while directing your customers to independently manage routine tasks with the account management area of your website. These tasks can include tracking open order statuses, scheduling and confirming deliveries, looking up product details, or submitting reviews.
Buying
Did you know that Statista projects online home furnishings sales will reach $150 B? Elements like accurate product information and imagery, a frictionless checkout workflow, financing options, and credit card security help make your home furnishings website an attractive place to capture business, either exclusively via this channel or after a showroom visit.
Payments & Financing
Often, customers will have open balances or financing plans with your business required to complete their purchases. Having online portals to facilitate efficient and secure online payments can support your customers in successfully managing their open finances while ensuring you collect your owed receivables. Further, providing a portal for your customers to review their payments and upcoming invoices is valuable to self-service.

Which Home Furnishings eCommerce Solution Is Best for You?
Unsure? Our eCommerce Experts Are Here to Help
Learn More
Discover STORIS' eCommerce solution options available for you to operate a successful home furnishings retail website.
eCommerce Options Demo Request