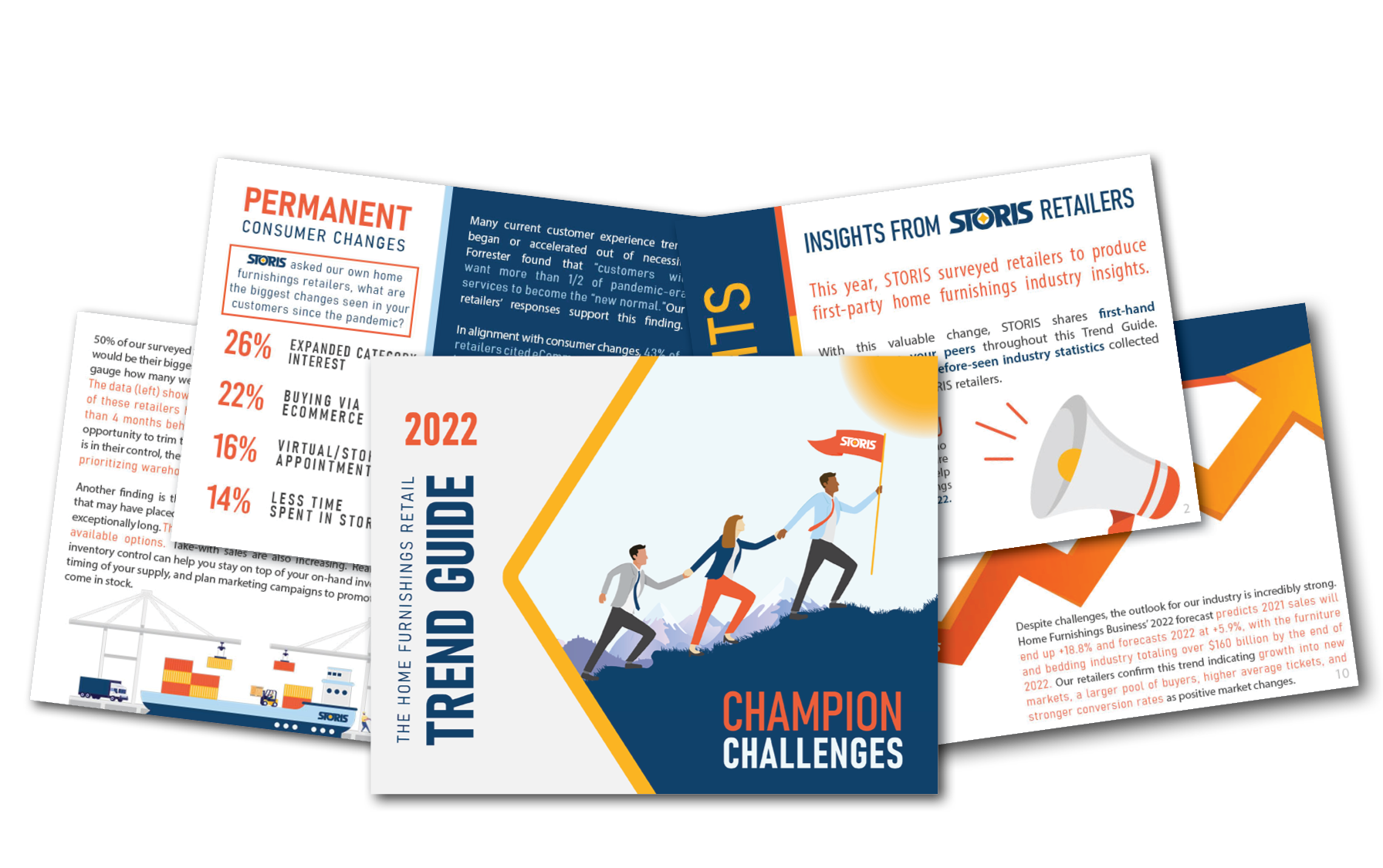 As market conditions continue to change, it is time to master all channels: eCommerce, mobile, social, curb-side, today's in-store. The 2022 Trend Guide provides a comprehensive look at Market Factors, Technology Trends, and the State of the Industry to help us all start 2022 off strong. New this year, the Trend Guide is packed with industry research from your home furnishings peers.
Elevate your incomparable team members by employing strategic retail technology to support their success. Technology can help the valuable members of your team perform more efficiently when conducting their jobs as well as support fast onboarding of new hires. Read the guide to discover how technology can be your team's MVP.

The costing tools within your technology can be a valuable resource to monitor variable costs, manage accounting with accuracy, price to ensure margin attainment, and devise partner strategies. Read the guide to learn how retail freight and costing tools can provide a competitive advantage in a competitive market.
STORIS helps retailers achieve 99% inventory accuracy and improve KPIs. In our Ultimate Inventory Guide, we provide insightful takeaways for control.

This inventory guide provides tips for a smooth Physical Inventory including preparations, step by step instructions, and insights for year round success.
When you partner with STORIS, you get more than just software. In our guide to Implementation Success, we highlight 10 steps for an achievable implementation.

Do you ever wonder about the impact on your business when inadequate software is utilized for years? Find out what revenue you could be leaving on the table.

Discover the positive impacts a leading retail furniture solution can have on your bottom line in "Gain the Greatest ROI from Your ERP Software."
Past Industry Trend Guides
How does your business shape the customer journey and earn the attention of digitally savvy customers? In the 2021 Trend Guide, we provide actionable tactics and takeaways from analyzing the holistic retail environment and state of the home furnishings industry.

As retail heads into a new decade, we review the State of the Industry and a 2020 Vision Plan. Discover the most in-depth guide yet, packed with 20 furniture industry-specific trends to help craft your 2020 retail strategy.

Customers want physical and technical experiences to co-exist in a way that adds value to their shopping journeys and convenience to their everyday lives. In our 2019 Furniture Industry Trend Guide, we review the State of the Industry, the Evolution of Retail, and 9 strategic technology initiatives.


When you choose , you get more than a revolutionary retail software solution. You get the know-how of our team of experts, superior service, and opportunities for growth. Use the form below to learn what can do for you.