CXM Dashboard Empowers Sales Associates
October 2nd, 2019 by the STORIS Marketing Team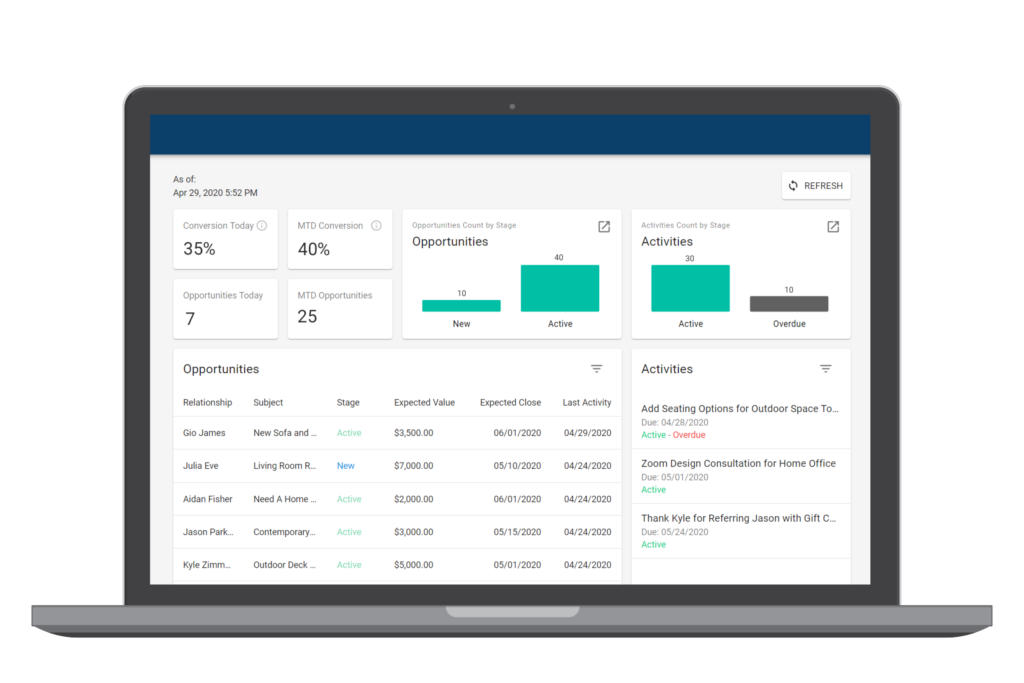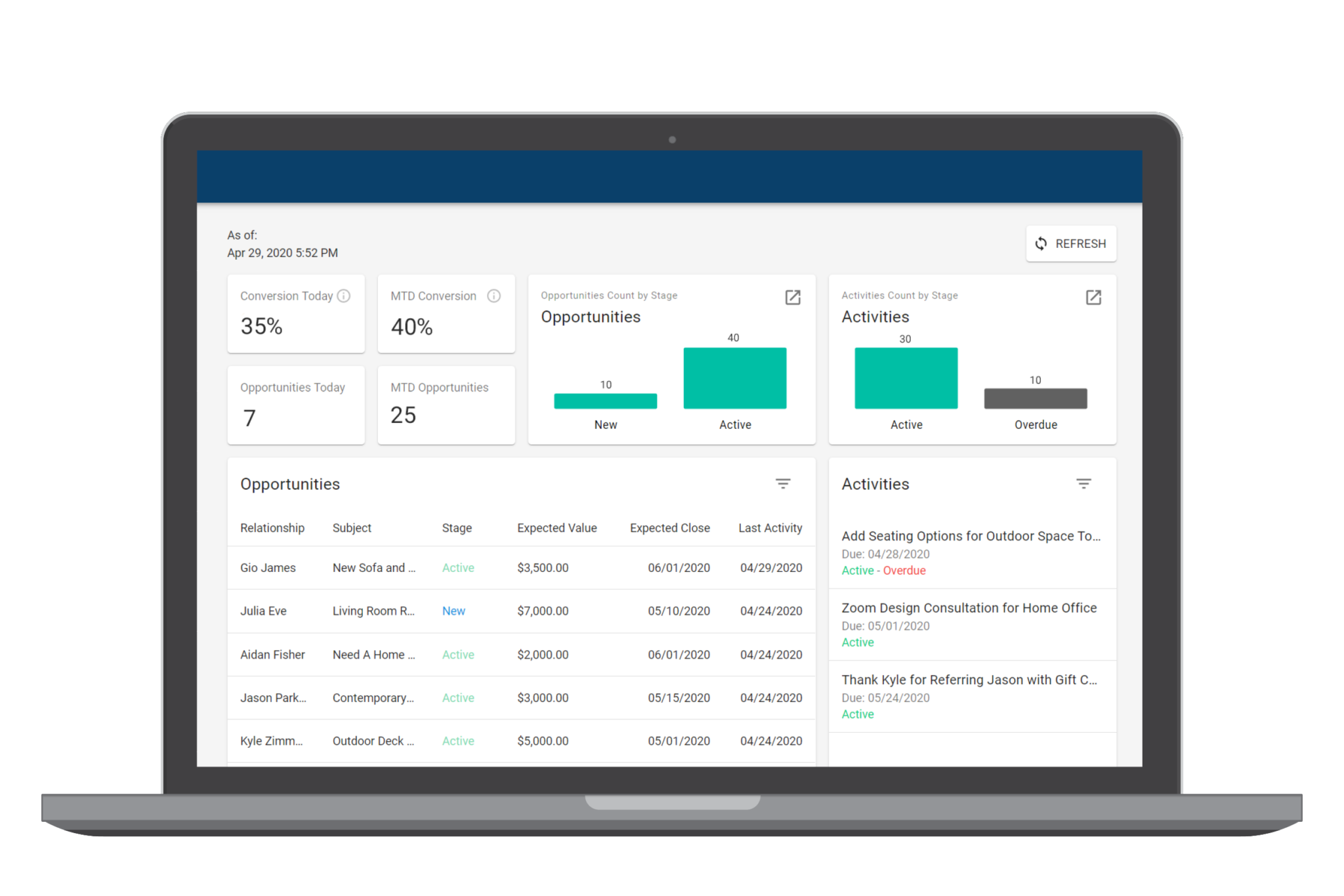 Mt. Arlington, NJ – The Customer Experience Management tool designed for your sales associates to prosper is on display at the October 2019 High Point Market. STORIS will be showcasing the CXM Sales Dashboard in the HFA Retailer Resource Center on the 1st Floor of the Plaza Suites. The CXM Sales Dashboard is designed to provide the key resources your sales associates need for a productive day, right at a glance. From Opportunity and Activity Management to Key Performance Indicators, the Sales Dashboard is designed off the premise that knowledge is power.
The Sales Dashboard in STORIS' CXM functions from each sales associates' Opportunities and Activities. An Opportunity provides proactive team members with the ability to track customers that have future sales potential. For example, if a recent customer purchased only a sofa, but also mentions they are closing on a new home at the end of the month, a savvy associate would create an Opportunity to follow up with the customer following the home closing and suggest additional furniture that fits the customer's price point and design aesthetic.
The goal of Opportunities is to generate repeat customer business. Opportunities can be assigned owners, linked to customers, tracked by stages, classified with project types, and assigned expected close dates and sales values. Descriptions can be used to denote pertinent details. Further, Opportunities can be created to track referrals.
Activities are comparable to daily tasks. They provide users with a way to track their day-to-day responsibilities, appointments, and follow-ups. They can create and manage specific Activities such as "Send a Thank You Note" or "Schedule a Call with John Smith" as examples. Activities can have due dates, owners, and linked customer relationships. Both are distinct ways for sales associates to effectively manage their own businesses.
The CXM Sales Dashboard is specific to each user and highlights key information in grids, graphs, and cards. Filterable grid views highlight the user's Opportunities and Activities by time frame. These list views become functional daily workflows. Key metrics also help top performers self-monitor their Opportunity Conversion Rate, Expected Close Values, and Aging Opportunities and Activities.
"The CXM Sales Dashboard puts truly actionable resources into your team's hands in a mobile tool. It's developed to empower individuals to lead their own success and build valuable long-term customer relationships. With CXM technology, the business, associate, and customer all gain value," stated STORIS Product Manager for CXM, Mark Braun.
In an age where customers reward brands that prioritize experiences with their loyalty, having the right technology to optimize your Customer Experience Management is key. Learn more about CXM by filling out the form.
Request a NextGen CXM & Mobile POS Demo


When you choose , you get more than a revolutionary retail software solution. You get the know-how of our team of experts, superior service, and opportunities for growth. Use the form below to learn what can do for you.