Click here to access a PDF of The CXM Sales Dashboard Infographic.
Discover 15 Customer Experience Management (CXM) Sales Dashboard Views to Take Your Sales Team to the Next Level
STORIS' CXM for furniture retailers is an in-store technology application designed to empower sales associates to build meaningful relationships and add value to their customers' shopping journey. Accessed from any web-based, mobile device, CXM will optimize the effectiveness and productivity of your sales team from anywhere on your showroom floor and beyond as they build long-term customer relationships.
Sales associates can maintain detailed customer profiles in one organized technology application including purchase history, contact information, and shopping carts. In addition, notes and follow up reminders can be added to a customer record to ensure the associate is staying on top of closing open Sales Orders and maintaining timely communication. CXM enables sales associates to manage their own business proactively by creating Opportunities and Activities.

Opportunities
Opportunities enable sales associates to track valuable information about a sales lead. Key details for each interaction include subject, description, stage, projected value, and expected close date. Creating proactive Opportunities can help sales associates generate new business opportunities and foster repeat customers.
Activities
Activities provide sales associates with a way to keep track of their daily responsibilities, appointments, and follow-ups. They can assign Activity due dates, create reminders, and monitor their progress through an Activity's stage.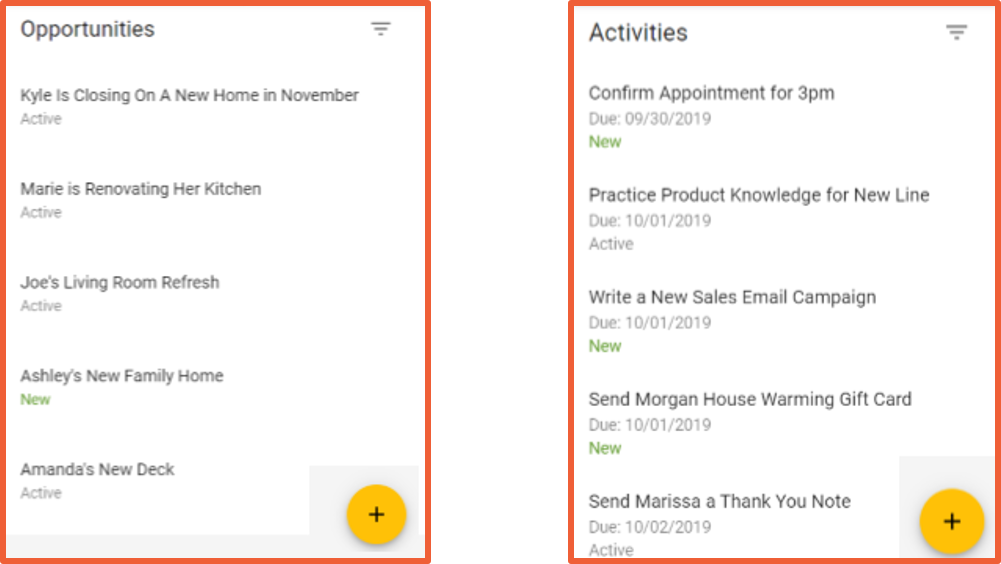 CXM Dashboard
Effective sales associates take charge of their relationships. The CXM dashboard is their mission control. Tables, charts, metrics, and grids for open orders, pertinent opportunities, and timely activities give each user the knowledge needed to close more business and earn loyal customers.
Conversions Today

This card displays the percentage of Opportunities for which Shopping Carts were were converted to Sales Orders.
Opportunities Today
This card displays the current day's total number of Opportunities for this sales associate.
MTD Conversion
This card displays the same information as Today's Conversions as a month-to-date statistic.
MTD Opportunities
This card displays the total month-to-date Opportunities for this sales associate.
Count By Stage
This graphical section provides a break down of how many Opportunities and Activities are currently in each open status. Clicking on each section is a quick way to open the Opportunities or Activities screen, where the sales associate can update individual items.
Activities Grid Display
This grid shows the open Activities for a sales associate and displays the subject, due date, and current status. The sales associate can filter their Activities by all, today's, tomorrow's, or overdue Activities.
Opportunities Grid Display
The Opportunity grid displays all current opportunities for this sales associate. They can filter by all open Opportunities that have been active less than 14 days, between 14 and 30 days, and greater than 30 days. Using the date parameters help sales associates to prioritize their Opportunities.
Open Orders
This window displays current open orders, arranged by the earliest expected close date, for relationships linked to this sales associate. They can easily jump directly to a specific order to view details or add products. This display provides sales associates with a list of orders they can prioritize to help close more sales.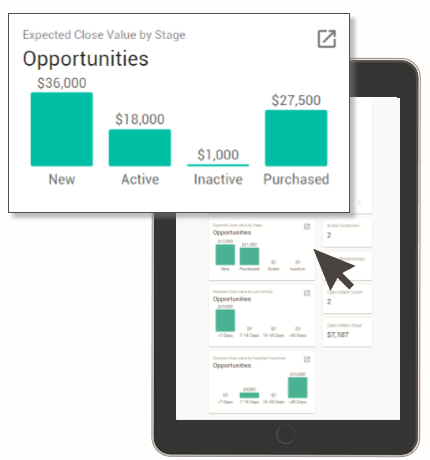 Expected Close Value by Stage
The Opportunities by Stage graph displays the total of the Expected Value by each open Opportunity stage. This screen can help each sales associate build their pipeline, focus on quotas, and meet their personal commission goals.
Expected Close Value by Last Activity
This graph displays a total of the Expected Value for Opportunities that have a "last updated date" within a certain timeframe. The date is updated when the Opportunity is edited.
Expected Close Value by Expected Close Date
The Opportunities by Expected Close Date graph displays a total of the Expected Value of each Opportunity that falls within the date range.
Active Relationships
This card displays the total number of relationships assigned to an individual sales associate. A relationship reflects people engaging with that sales associate that aren't necessarily a purchasing customer yet.
Active Customers
This card displays the number of purchasing customers that are linked to this sales associate.
Open Orders Count
This card displays the number of open Sales Orders linked to the relationships of that user.
Open Orders Value
This card displays the total value for all open Sales Orders linked to assigned relationships.
Is Your Team Ready to Close More Business?
Successful home furnishings retailers adapt to ever-changing consumer demand. With Customer Experience Management technology, retailers can take their shopping journey to the next level. CXM transforms the anonymous shopper walking through the door into an individual that has a history with your brand. Building strong relationships with multi-channel shoppers is key to growing customer satisfaction and brand loyalty.
STORIS' CXM technology is a fully integrated mobile application offering an abundance of features that help retailers gain a competitive advantage. CXM is integrated to both STORIS' Point of Sale and eCommerce Platform with shareable shopping carts and real-time inventory management. CXM is a powerful tool that enables your sales team to improve their job performance, boosting their confidence and helping close sales. Empower your team today! Learn More about STORIS' CXM Technology.