Answer Product Questions Confidently with Mobile Solutions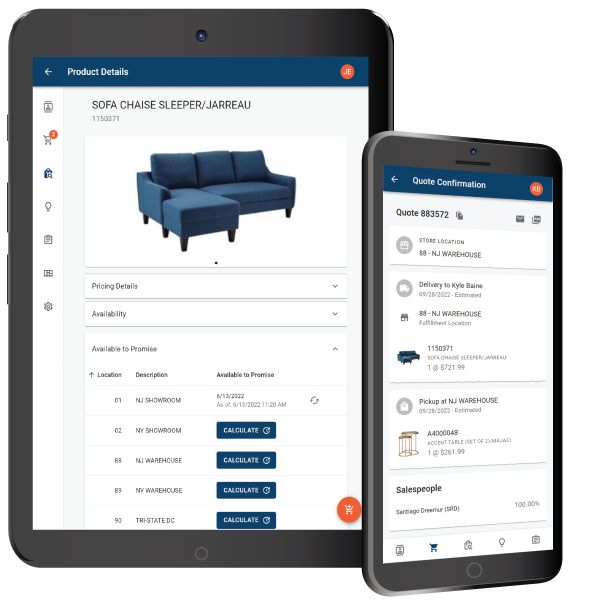 Sales associates are at the forefront of your business, representing your brand to customers; therefore, having a dedicated and knowledgeable team is crucial to every home furnishings retailer.
Robust product knowledge and attentive customer service are key factors in building customers' confidence in their purchases and closing more sales.

However, with a large and constantly fluctuating inventory, it can be difficult for salespeople to stay up-to-date on product availability, pricing, and alternatives. Reliable, mobile technology expands sales associates' product knowledge and allows them to answer product questions confidently, suggest additional or alternative products, and organize fulfillment options.
Using mobile devices to access all this information allows sales associates to be more attentive and shows customers they are valued. By being thorough and accurate during the sales process, associates are less likely to encounter hiccups at checkout, thus saving time and keeping customers satisfied.

Mobile technology empowers salespeople to be product experts and gives them confidence in showrooms. With STORIS NextGen in the palm of their hands, sales associates are able to answer product questions confidently, have smooth customer interactions, and close more sales.


Here are common questions STORIS NextGen can provide answers for:
What products will meet my customer's needs today?
For customers exploring their options, powerful product search not only provides detailed product information for individual items, but also associates can filter searches by Collection, Group, Vendor, and Brand. This helps associates find what they're looking for and suggest products based on customer preferences.
What are the product's current selling price and specification details?
When a customer has found a piece that they like or wants to compare prices, finding pricing information is as easy as scanning a barcode on a product's tag with their mobile device. This displays relevant product information including price, as well as other pertinent specifications they may want to be confirmed, such as measurements, weight, materials, and alternative colors.
What is this product's precise availability date?
The Available to Promise feature allows salespeople to provide customers with details on when a product is available for pickup or delivery at any store location. Conveniently located in the shopping cart at the line item level, ATP can be leveraged to coordinate product fulfillment and align with customers' schedules.
How do other items on this order impact the overall availability? Can varying fulfillment options get my customer their products faster?
Similar to ATP, the Available to Customer feature displays on the shopping cart level and calculates the earliest date on when all items in the cart are available and can be delivered together. This provides convenience to the customer, can reduce delivery costs, and encourages additional sales.
Is this product or order eligible for any promotions? How do additional items on the order impact discount eligibility?
By using the discounting action in STORIS NextGen, sales associates can evaluate all the items in a shopping cart for eligible promotions while validating that minimum requirements are fulfilled and discounting rules are followed. The easy-to-use discount calculations equip associates to incentivize customer purchasing and increase sales.
What alternative or complementary products might also meet their needs?
By viewing related products, sales associates have the ability to upsell additional merchandise. These items are displayed based on an established grouping of similar items. Associates can easily add these related items directly to the cart to increase average ticket values.
STORIS NextGen features help your salespeople succeed, whether they are new hires or seasoned veterans. With a wealth of real-time information at their fingertips, sales associates can be accurate and informative when serving customers, creating a positive impression of your brand and contributing to more sales.
Request a STORIS NextGen Tour


When you choose , you get more than an industry-trusted retail software solution. You get the know-how of our team of experts, superior service, and opportunities for growth. Use the form below to learn what can do for you.