Your Brand's Online Reputation Impacts Customer Perception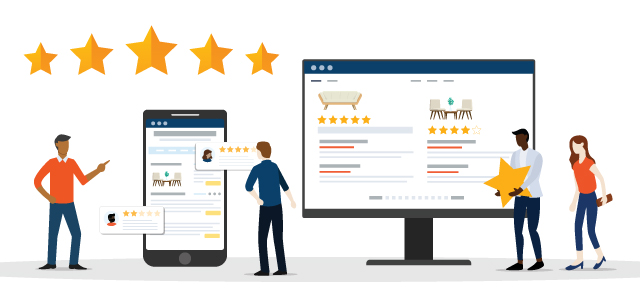 Your home furnishings business' reputation is an important part of your brand. Online Reputation Management allows retailers like you to understand the way customers perceive your business. A Reputation Management strategy provides retailers with the ability to shape their online identity. Home furnishings retailers have it in their power to convey consumer trust, exceptional customer service, and their brand's aesthetic. Building a positive online reputation is a continuous practice that, when successful, results in new customers, increased sales, and business growth.
85% of customers browse the internet before making a purchase. (Vendasta)
Consumers read an average of 10 online reviews before trusting a business. (Kanuka Digital)
84% of marketers believe building consumer trust will be a primary focus for future marketing plans. (Vendasta)
Your digital presence enables you as a home furnishings retailer to engage with and retain more customers. Customers are using the internet today to learn everything about a business and its products before making a purchase. Therefore, it's imperative your home furnishings retail business proactively works on promoting a positive online reputation, which can have a direct impact on both in-store and eCommerce conversions. Managing a successful Reputation Management program requires expertise, awareness, and collaborative efforts.


How to Create a Successful Reputation Management Program
Managing Reviews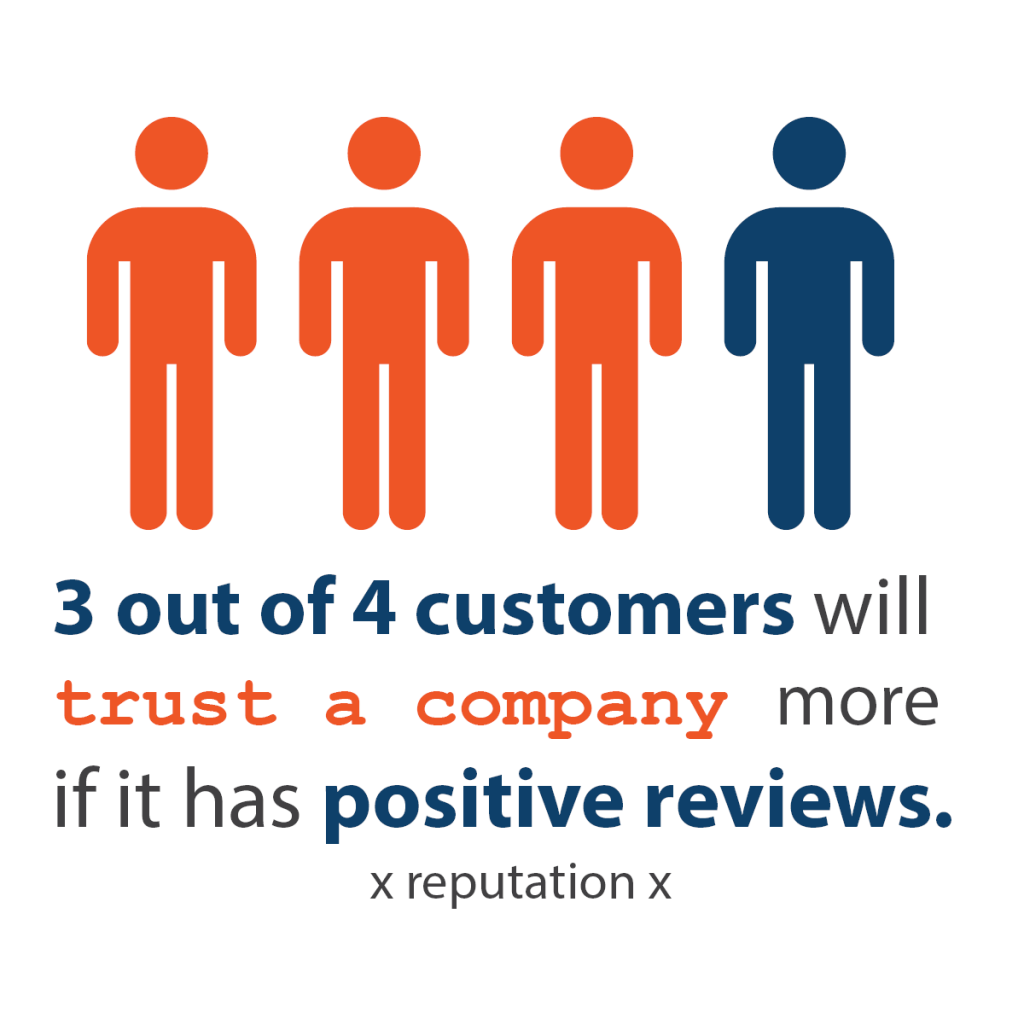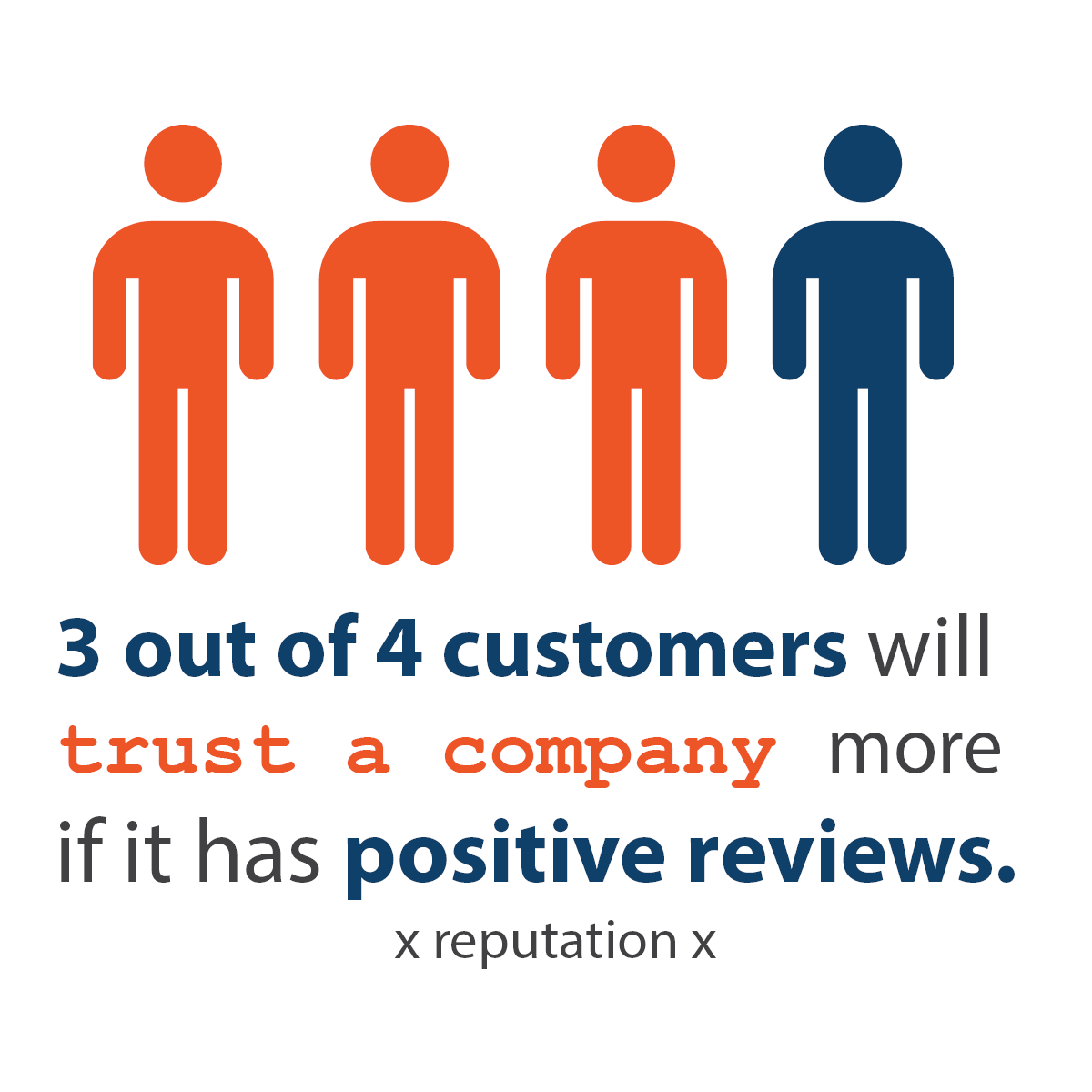 Allowing customers to share their experience with your retail business through online reviews is key to building consumer trust. Customer reviews are often honest and straightforward.
Approximately 72% of customer reviews are positive recommendations, while 32% of reviews are between one and three stars. (xreputationx)
When a customer walks into your home furnishings retail store or lands on your website, they most likely have already formed an opinion about your business based on reviews found on third-party websites, such as Google My Business, Yelp, and Facebook. They may have formed their own opinions on specific products based on your own website's collection of product reviews.
Over 80% of consumers trust reviews as much as they trust recommendations from family and friends. (Podium)
Through Reputation Management Software, retailers can track and monitor reviews for their brand 24/7. Whether it's positive or negative, the review is likely to stay online, but businesses have a chance to alter a negative opinion. Retailers that respond promptly to and proactively resolve concerns conveyed in negative reviews can win back customers. In fact, 70% of customers who wrote a negative review and received a satisfying response will repeat doing business with that brand. (SEMRush)
---
Improve SEO Rankings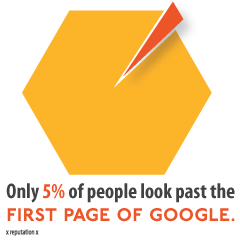 Your digital marketing efforts as a retailer drive traffic from Google to your website. As the furniture industry is competitive, search engine rankings can determine what brands customers evaluate along their path to purchase.
A Reputation Management strategy includes optimizing business listings where you collect third-party reviews. Review platforms such as Google My Business and Yelp, seamlessly channel customers straight to your website, which leads to increased traffic.
Review ratings are the biggest driver of clicks in local SERPS. (BrightLocal)
Higher traffic is a strong SEO signal to show Google you are a reputable business and quality resource, which ultimately will boost your rankings on search engine results pages (SERPS). It's key to ensuring your retail brand name and target keywords are ranking high on Google.
---
I
nter
actions Across Mobile Touchpoints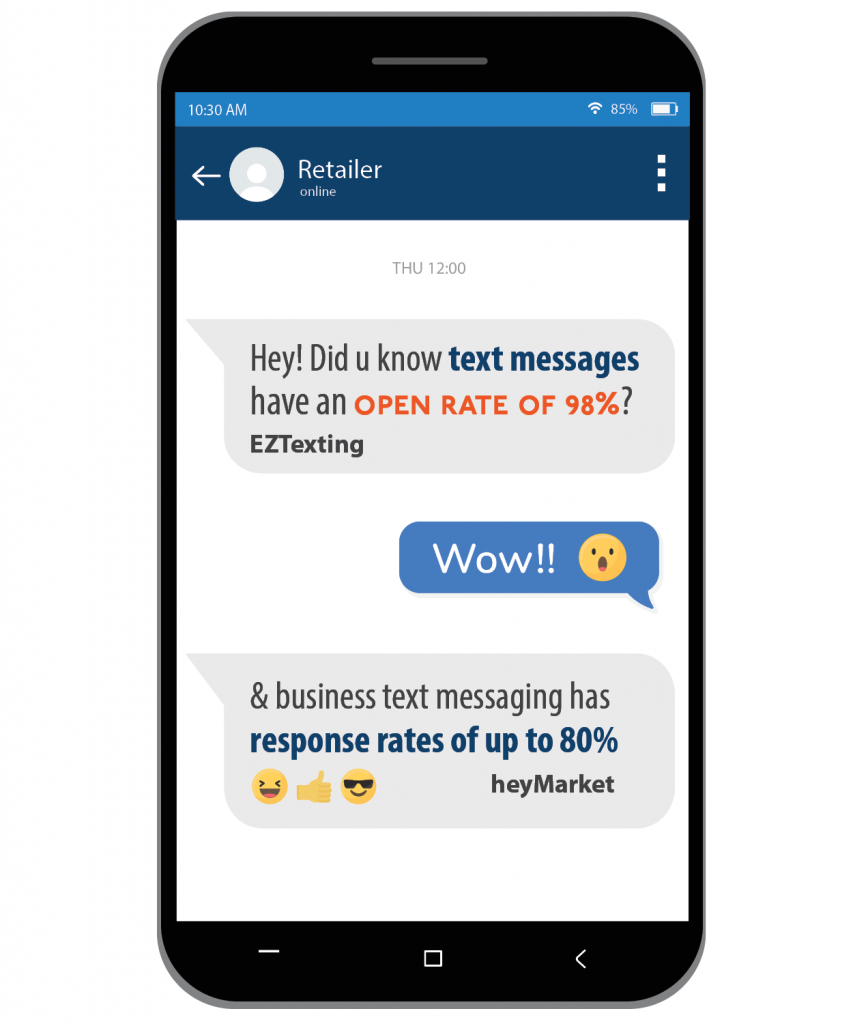 Today's smartphone technology enables furniture shopping to be easier than ever. Tech-savvy customers are attached to their smartphones, which makes text and email messaging an effective way to connect with them wherever they are. Sending instant offers and digital promotions attract more customers to shop your brand.
Mobile devices account for about 60% of email opens.
(Constant Contact)
Text and email touchpoints also allow retailers to make the review process seamless for their valued customers. Through a Reputation Management Solution, texts or emails can be automatically sent to customers to ask for reviews after designated points in the selling journey, such as after an order is written or completed and after delivery.
---
Why get Social?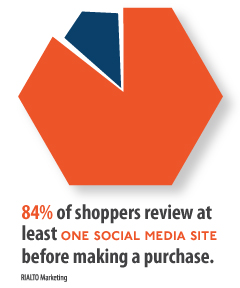 Social media platforms give retailers the chance to communicate directly with their customers, listen to their target audience, promote their values, and boost brand recognition. Setting up brand alerts via a Reputation Management platform will help you stay engaged on social media by receiving notifications when your company name is mentioned anywhere online.
Alerts prompt retailers to personally respond to customer posts, whether it be positive or negative. This shows your followers that you are listening to them and you care. Reputation Management Software can be set up to send retargeting ads to customers whose decision-making time-frames are longer with big-ticket purchases. Overall, social media platforms enable retailers to expand their reach to customers, drive engagement, and develop lasting relationships.
39% of Facebook users "like" brand pages so they can research different products. (Status Labs)
Online reviews shared on Twitter increase eCommerce sales by 6.5%. (Yotpo Blog)
64% of consumers are more likely to buy a product after watching a video about it. (Social Media Today).


Leverage Technology to Understand Your Customers
Build a positive brand reputation with POS Integration.
Online Reputation Management is the digital evolution of word of mouth. A Reputation Management Solution is a strong asset for home furnishings retailers to include in their business strategy. Integrating your Point of Sale with Reputation Management Software is a golden ticket to grow and optimize your brand's valuable reputation.
Up to 80% of reviews originate from follow-up emails asking shoppers to review their purchases.
(g2 Learning Hub)
Integration to powerful Reputation Management Platforms helps retailers streamline a consistent process to collect plentiful reviews. STORIS' Point of Sale and eCommerce solutions integrate to leading Reputation Management platforms in the home furnishings industry. This integration helps retailers build a collection of online reviews, star ratings, and testimonials.
Through our POS and eCommerce solutions, customer and product information is automatically transferred to a retailer's chosen Reputation Management Solution once an order is written or upon completion of a Sales Order. Through the chosen platform, online review requests are sent via email, mobile, and social channels to maximize engagement. By using key triggers in the customers' buying cycle, you can capture their attention at the right time and collect reviews as a natural step in the sales process.


STORIS is a proud partner of these Reputation Management Providers: