Text Override Requests to Managers' Phones
August 8th, 2023 by the STORIS Marketing Team
Revolutionize Your Salesfloor with Remote Manager Overrides
Mt. Arlington, NJ – STORIS' product team has spent hundreds of hours onsite at their retailers' showrooms uncovering common challenges to inform the design of its web-based Mobile POS. One noteworthy finding was how often sales associates had to physically track down their managers for price override approvals.
"We observed an average of 3 overrides per sales order, which translated to upwards of 20,000 individual manager override requests at Top 100 retailers every day. We knew there had to be a better solution, so our team set out to solve this common retail challenge."

Mark Braun, STORIS NextGen Product Manager

Price overrides are a necessary practice in retail as they ensure inventory is being sold at a price that maintains margin requirements. But this can lead to a clunky customer experience and annoyance to managers and associates alike. Today, STORIS is thrilled to present Remote Manager Overrides, a new feature of its STORIS NextGen Mobile POS.
This new mobile approach eliminates frustration, enables associates to stay with their customers, and expedites checkout.
"We observed managers' time being inundated with overrides on peak days taking them away from productive tasks. STORIS NextGen's new override experience eliminates the redundancies we observed to save hours of valuable time that can be dedicated to driving sales and developing store teams."

Mark Braun, STORIS NextGen Product Manager
Give Your Managers Back Valuable Time Today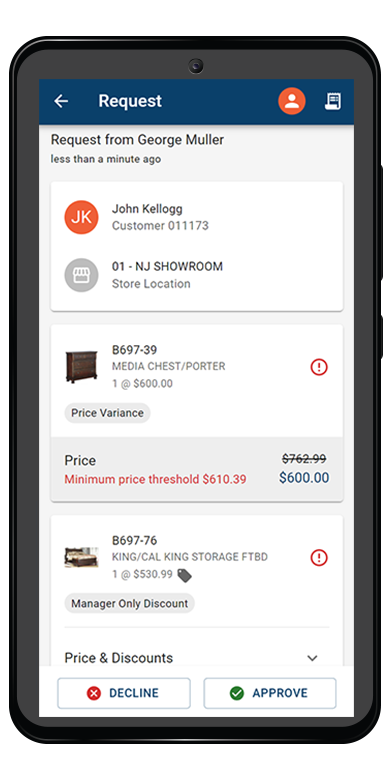 Remote Manager Overrides enables a sales associate to send a manager a request through their mobile devices. This management-level user must be given the appropriate security permissions. They are then eligible to receive SMS text alerts to their cellphones with a direct link to approve or deny override requests with the click of a button. Additionally, approvals can be sent for the entire order, eliminating the tedious nature of line-by-line approvals. This alone can cut override requests by two-thirds.
If the manager chooses to deny the request, they can reply with an explanation or a recommended solution that is agreeable to all parties. For example, an associate may have requested a price variance of 15%, but the manager is only comfortable approving up to 10%.
Sales associates need to request a manager override if they add a "manager-only" discount code to an order or manually override the price of a line item that exceeds margin thresholds. The request will clearly communicate why each line item is triggering a price exception and how far outside of the variance the request is. This allows the manager to make an informed decision on approving the request.
If your customer experience is bogged down by tedious manager overrides, STORIS NextGen is a game-changer. Just request, text, and approve. Book a meeting with our team.


When you choose , you get more than an industry-trusted retail software solution. You get the know-how of our team of experts, superior service, and opportunities for growth. Use the form below to learn what can do for you.