Celebrating 30 Years of Serving the Home Furnishings Industry
February 26th, 2019 by the STORIS Marketing Team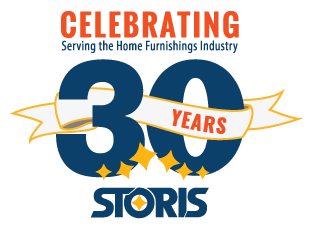 February 2019 marks three decades that STORIS has been providing technology solutions and services to the home furnishings industry. STORIS is excited to celebrate its 30th anniversary. Founded in February of 1989, STORIS was the vision of current President and CEO, Don Surdoval and the late Ira Bakst.
STORIS is grateful to its valued clients. Many of STORIS' current retail partners have been with STORIS since the early days and have been a key part of building STORIS' foundation. Retailers celebrating 30 years alongside STORIS are American Furniture Warehouse, Grand Home Furnishings, and Stoney Creek Furniture, among others.
"Our vision at STORIS is to be obsessed with making home furnishings retailers successful. As we look back on 30 years and into the future, we are committed to that vision for the industry, our clients, partners, and employees," remarks Don Surdoval, CEO.
The 30 Year Milestone is a proud achievement for the entire STORIS team, which includes many employees that have been with STORIS since the beginning. Vice President of Client Services, Marilyn Durning, and Vice President of Application Development, Dom Costantino, are among two of the earliest STORIS team members, that have grown to lead their respective divisions of the company. The long-term average tenure of the STORIS team is a key to the company's longevity and client relationships.
The growth of the STORIS team is not slowing down as it tackles the next decade. In fact, the team has grown to almost 150 employees. Since 2018, STORIS added 20 new team members to support the trajectory of their Unified Commerce Solution.
STORIS also celebrated 30 years with a full-scale renovation of their company headquarters located in Mount Arlington, NJ. This included opening "The Collaboration Center" with a new client training classroom, technology demonstration facilities, and a multi-purpose center that hosts employee wellness events. Expansive windows on the main perimeter walls flood the space with natural light, and all employee workspaces have become tech-forward with automated standing desks.
"STORIS longevity has been and continues to be a team effort. We are thrilled to be celebrating 30 with a growing group of talented employees, newly renovated headquarters, and a constantly evolving technology platform that will support our clients' success for years to come," stated Doug Culmone, President and COO.
Of course, as STORIS celebrates the past, their eyes are on the future. In fact, what the STORIS production team refers to as their Next Generation initiative is underway with development for a new STORIS infrastructure and web-based application in progress. The STORIS family is excited to continue growing, supporting its 400 plus retail partners, and providing opportunities for its team for decades to come.
Discover a STORIS Partnership


When you choose , you get more than an industry-trusted retail software solution. You get the know-how of our team of experts, superior service, and opportunities for growth. Use the form below to learn what can do for you.