Physical Inventory
A Physical Inventory is the process where a business physically counts its entire inventory to maintain the integrity of this important business asset, determine accurate inventory valuation, and identify their inventory shrinkage.
Every store location and warehouse completes its own physical inventory count for each unit individually. It is recommended that companies complete a physical inventory count once a year, with regular inventory Cycle Counting intermittently.
Cycle Counting is an inventory auditing procedure where a small subset of inventory in a specific location is counted on a specified day.

A software solution can help your business optimize your inventory management and pro-actively stay ahead of warehouse organization year-round. Fill out the form to learn more about STORIS' inventory management software.

Prepping for a Physical Inventory
While a Physical Inventory typically takes a full day to complete the count, there are some preparations that need to occur beforehand. Below we outline several prep items that have a positive impact.
Set A Date
The first thing you want to do as an organization is committed to a date. Most retailers complete their Physical Inventories at the end of their fiscal year so they can reconcile their end of year financials and start their new year with a clean slate. After the Physical Inventory, anticipate time for research and resolution of any issues you uncover.
Run Reports
It is important to run certain reports to use for the analysis of the Physical Inventory. You want to report on your inventory piece quantities to get a sense of how accurately it aligns with what your warehouse reports say is on hand. You will also want a report for your inventory valuation. This will be used to reconcile your actual counts later on.
Commit Outbound Inventory
Retailers need to make sure they understand exactly what needs to be accounted for. Some retailers use manifests to reserve inventory for outbound deliveries. If you do, you need to decide if you want to include the inventory that is on a manifest as part of the Physical Inventory count or consider it already out of your ownership. If you decide not to count those pieces, you will need to complete those sales orders in your system so the inventory is adjusted accordingly.
Determine Cut-offs
It is important to set cut-off dates for activity related to the warehouse you are going to be inventorying. This includes making deliveries, receiving merchandise from vendors, and transferring items in and out of the location. In addition, you will want to complete any Returns to Vendors that are in progress in your software system.
Reconcile Cost Exceptions
In order to complete a Physical Inventory, you need to reconcile any cost exceptions in your system. If a purchase order contained merchandise that was received without a cost or the value changed, this creates an exception. All errors need to be resolved beforehand for the Physical Inventory to accurately calculate your inventory valuation.


THE DAY OF…
With the prep work in-place, your team is all set for the big day. Now, what should you expect? Below we highlight what actually happens and some tips to optimize the Physical Inventory process.
Freeze Your Inventory
To begin the process of a Physical Inventory count from a software standpoint, all inventory in the associated warehouse must be frozen. You can then run a report on the frozen inventory, which provides the data you will use to compare your inventory count to that day.
Enter with Barcodes or Count Sheets
Large organizations that use barcoding in their warehouses will do so for the actual count. This saves a lot of time and reduces errors. Barcodes will capture the Storage Location, Product Number, Serial Number, Description, and Stock Quantity. For smaller businesses not utilizing barcode technology, create an organizational document to record the information mentioned above. It is recommended that you count and record information on the individual items in a location. Then follow up with a bulk count of pieces in that area to confirm the quantities. Retailers using barcode scanners often have someone spot-checking areas throughout the day using the count sheets.
Mark As-is
During the count you may discover that some items you thought were available to sell to customers have actually sustained damages. It is recommended that you use a specific "As-Is" reason code to clearly mark any damages you find within your software system.
Enter The Data
The next step is to enter the data you counted into your software system. Inventory software should have a program to enter counts from a Physical Inventory. This information will be updated automatically with barcoding. If you are conducting the Physical Inventory count manually, you want to be very careful to enter the data correctly into your system.
Compare Data
Next, you will run a comparison between the counted information and frozen inventory within your system. Review the quantities as well as the cost of the inventory. The cost comparison can either use the average cost of a piece or the exact cost depending on how you have your system's settings configured. From here you have the knowledge to determine how significant your inventory variance is.
Review Variances
The next step is to reconcile the variances that were found. Using reporting, you can determine exactly what products have been counted over or under what your system indicates. Those areas will be recounted to determine if the error was in the system data, was made during the count, or if the inventory is missing.
Adjust Your Inventory
The findings of your Physical Inventory will actually impact your inventory records including adjusting pieces both in and out of your inventory. Once you research and reconcile all variances found, you can confirm the results of your Physical Inventory and update your inventory management records in your software solution.
Achieving Inventory Success Year Round
A Physical Inventory is a large undertaking that many retailers complete only once a year. Retailers can monitor their inventory management throughout the year to reduce the level of variances. There are two critical management techniques, that if practiced regularly, make the process smoother and lead to little or no surprises during your Physical Inventory.
Organization & Structure
Organization and cleanliness in your warehouse is often the single most differentiating quality between a successful Physical Inventory and one that ends in a headache. It is important for warehouses to have a structure that is followed for an order to be maintained year-round. This leads to fewer errors in the calculation as well as reduced damages.
Routine Inventory Cycle Counts
Practicing regular inventory cycle counting procedures helps make the annual inventory less of an event because you will have a sense of your accuracy on a regular basis. Inventory managers who Cycle Count areas of their warehouse once a week instill good practices in their employees. When counts are conducted in random areas, it promotes a high level of productivity and accountability at all times.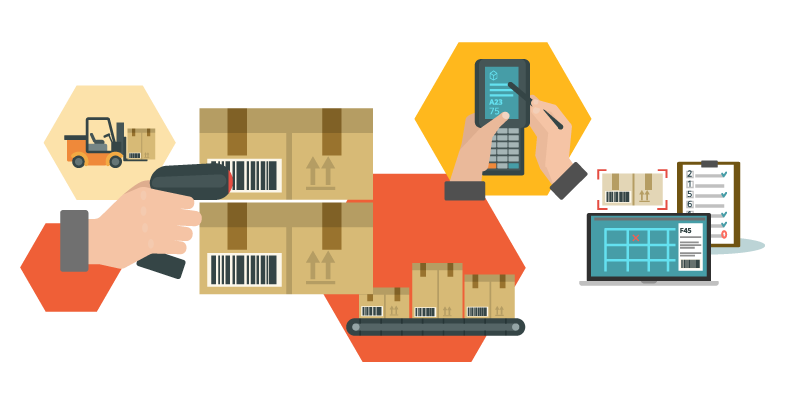 A software solution can help your business optimize your inventory management and pro-actively stay ahead of warehouse organization year-round. In addition, having technology tools in place will assist your business in conducting effective and efficient Physical Inventories and Cycle Counts. The software can include integrated barcoding to streamline the counting processes and capture of information. Professional services will further help retailers adopt best practices for successful Physical Inventories.