Customer Facing Application for Financing
July 24th, 2019 by the STORIS Marketing Team
STORIS Launches New Technology for Credit Applications with Ethan Allen

STORIS is excited to introduce its new technology for consumer financing, the Customer Facing Application (CFA), at the upcoming Las Vegas Market. Banking institutions are moving towards the customer-driven entry of personal data when filling out an application for financing. This is to secure the visibility of sensitive information by removing verbal or written communication to a third-party retail associate.
STORIS' Customer Facing Application is a streamlined web-based technology that secures the submission of private data needed when applying for credit. Customer Facing Applications empower customers to protect their privacy by filling out a credit application independently. Retailers can add field notes, labels, and instructions to guide the customer through this self-service process. This is facilitated on a web form that is mobile-responsive across any device. Retailers are able to restrict the use of the CFA to their store's IP address. Applying in store helps customers get the best rates from the retailer's lender partners.
Ethan Allen was an early adopter of STORIS' Customer Facing Application. They rolled out the CFA initiative alongside their new financing provider, TDBank. Mike Bacon, Director of Retail Systems for Ethan Allen commented, "As a luxury retailer, financing plays a critical role in the design process of Ethan Allen's clientele, allowing our customers to expand the scope of and expedite the timeline of their design projects. Our credit offering also provides greater credit affordability. For Ethan Allen, having a paperless application has tremendously streamlined the credit process and expedited the launch of our TDBank partnership. We do not have to manage physical copies of applications and the manual exchange with finance lenders has also been eliminated. Everything is done off of a single, web-based application and is automatically transferred between parties which has been a valuable efficiency win. In addition, with the CFA Ethan Allen does not store sensitive data which enhances customer privacy."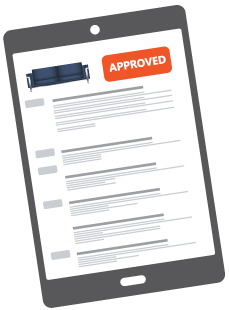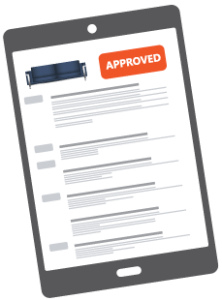 Another added benefit of the Customer Facing Application is the removal of awkward conversations. For example, a credit denial during the sales process could negatively impact the customer's experience. CFA lets the conversations during the sale remain both positive and confidential. Further, the Customer Facing Application integrates to STORIS' finance estimator tool during the checkout process. This enables the customer to choose the most desirable plan from the provider that has approved them, giving them greater buying power.
The Customer Facing Application integrates with existing products in STORIS' financing suite for both in-house and third-party financing. This includes STORIS' Finance Queue which allows a single application to be run against multiple financial providers until a customer receives their desired financing. The Customer Facing Application can be queued through the retailer's suite of financial providers.
Donnie Surdoval, STORIS Director, Product Strategy, notes, "Security and convenience are of the utmost importance to the customer experience. We are excited to put CFA into home furnishings stores to enhance the financing process for the customer and retailer alike."
Financing is a key initiative for retailers in service of their customers. The STORIS team will be conducting live demonstrations of the Customer Facing Application at Las Vegas Market in the HFA Retailer Resource Center on the 10th Floor of Building B-1050. To learn more today, visit our financing page, read our new Financing Guide, or Request a Demo here.


When you choose , you get more than an industry-trusted retail software solution. You get the know-how of our team of experts, superior service, and opportunities for growth. Use the form below to learn what can do for you.