Written for the Home Furnishings Association's Educational Series
In a world before showroom technology, it was inefficient to track non-purchasing guests. Often the efforts spent on these guests went out the showroom doors with them. Today, retailers leveraging in-store technology to track guests and build shopping carts generate valuable data. In fact, research shows that with follow-up or targeted marketing, approximately 20% of originally unsold guests can become converting customers. Likewise, the goal of retailers today shouldn't be a singular sale, but rather customer retention.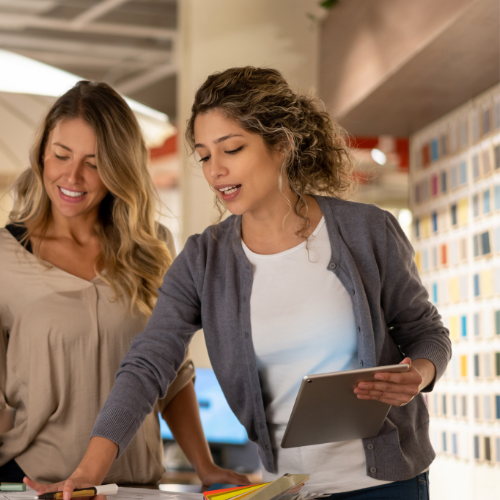 In this article, we'll review how retailers can leverage technology during each of the 5 steps of the selling process. The goal is to capture contact data and product interest for every guest your team engages with to close more business and earn loyalty. When training your sales team, it is important to incorporate how to leverage technology at each of the vital stages of the selling process. We'll use the popular framework Greet, Discover, Demonstrate, Close, and Follow-up.

1. The first step is to Greet your guests and set the tone for their experience. To connect personally, start with open-ended questions on topics such as current news, local events, sports, or movies to establish a rapport. Building a personal relationship with your guests can result in not just the first sale, but long-term success.
PRO TECHNOLOGY TIP – During the Greet, naturally introduce the technology you are using and its benefit to the guest. For example, "I have this application I will be using to take some notes as we shop today. I can use it to look up more detailed information about products you are interested in, tag any items of interest, and even show you options we may not have on display in this store. Would that be okay?"

2. After making introductions, Discover why your guest is here today. Identify not only what the guest wants, but the motivations driving their decision. Motivation is key to properly demonstrating features of a product and overcoming objections. Put on your reporter hat and ask open-ended Who, What, Where, When, Why & How questions. A good example of a discovery question and answer could be: Q. Tell me how the space will be used? A. Our goal in redoing the living room is to host large family movie nights.

PRO TECHNOLOGY TIP – Ensure you build a guest's profile with their name and contact information you've learned and start a shopping cart for them. If they are a returning guest, review a snapshot of their history to personalize the conversation. First-party data is increasingly important. Record what you learn about your guest during the Discover stage including their project goals, style preferences, personality, and interests. If they mention any future projects they aren't shopping for today, create an opportunity you can follow up with later. Detailed notes are pivotal in closing sales today or at a later point in time.

3. Now it's time to use the information you learned to create a personalized product Demonstration focused on benefits. The Demonstration is where you can establish value and create a desire to buy. Encourage your guests to experience the sensory elements of the products as you demonstrate. After all, this is a key reason they visited your showroom.

PRO TECHNOLOGY TIP – During Demonstration, pull up product pages on your tablet. This will ensure you are accurately answering questions that may have variable answers such as "When will this item be available based on the guest's zip code" or "how does the current promotion alter the product's current selling price." Without real-time technology, your answers might be inaccurate, which can be a reason the guest backs out of a sale at the last minute. Also at this stage, every potential selection should be added to a Shopping Cart. If the guest likes a piece in the showroom but wants a related item or variation not on display, you can use your technology to support an endless aisle inventory strategy.

4. There comes a time in every shopping experience to go for the Close. Look out for buying signals such as "When can I get this delivered" to know when. During the Close, associates should handle any objections and aim to increase the order value with relevant upsells.
PRO TECHNOLOGY TIP – There are two immediate outcomes, both of which benefit from your use of technology.

PURCHASING CUSTOMER: If the guest is ready to buy now, narrow their final selections in the Shopping Cart, add any related items or protection plans, finalize fulfillment preferences, and checkout. You won't be starting from scratch to collect their information as would have been the case if you hadn't used technology throughout the process. You did all that work organically while shopping and significantly reduced the checkout time, a positive your new customer will surely remember.

NON-PURCHASING GUEST: Of course, many guests won't be ready to commit. This is where your work earlier adds tremendous value. Always send the guest home with a shopping cart they can check out online. Based on the expert service you provided, ensure they know they can give you credit for the sale from home. Technology is an asset, not your competitor! Simply email the cart home with the guest with any viable options. If you negotiated pricing, you could lock that in too. You want it to be as convenient as possible for the guest to go home, measure, and submit the order.


5. The final stage is Follow-up which can be summarized as continuing the relationship you built. Follow-up is where sales professionals can turn a great shopping experience into an exceptional one. It's how top salespeople earn repeat business and referrals.
PRO TECHNOLOGY TIP – By creating reminders, next steps, and active opportunities in your technology tools, you ensure you follow through on these Follow-up items and nothing falls through the cracks.

PURCHASING CUSTOMER: Send a thank you note. Then, use your technology to set a reminder to touch base on any other items of interest or future projects they may have mentioned. Now's a great time to refer back to the notes you took to personalize this next touchpoint. You can add this customer to marketing campaigns based on their purchase history if they didn't directly mention their next opportunity.

NON-PURCHASING GUEST: Send their open cart to your marketing platform for an abandoned cart campaign. Make a note to check in personally if they haven't converted online. Use your notes to reference their objections and inform your strategy. Consider inviting the guest back to your store for a private sales event to seal the deal.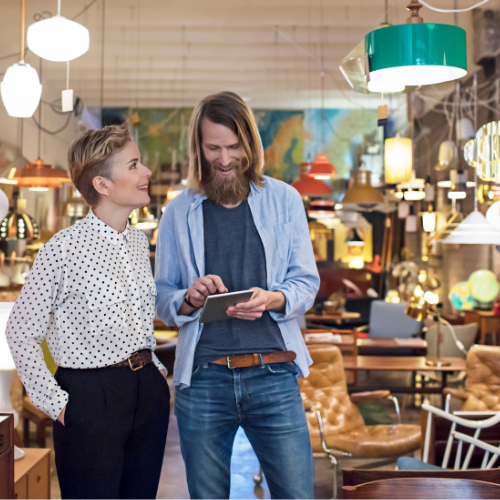 As you can see, when technology is used from the very beginning of the sales process and throughout the customer's lifecycle, it has tremendous value. Leveraging technology provides your guest with an exceptional experience that is your competitive advantage.
STORIS provides modern retail software solutions to home furnishings retailers. Our innovative, web-based, mobile STORIS NextGen platform is used across retail showrooms today and empowers industry leaders to enact a sophisticated selling process as outlined above.
Request a Product Tour Today