Transforming the Customer Experience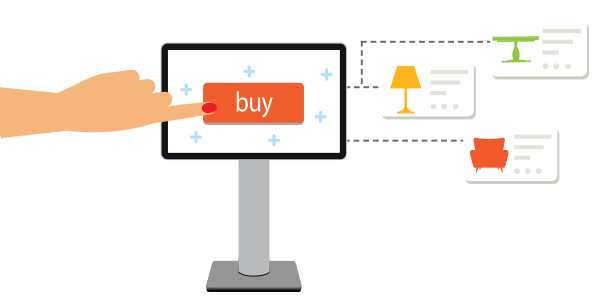 In order to meet the needs of today's consumers, retailers must combine the ease and efficiency of online shopping with the benefits and experience of in-store shopping. By merging these attributes, brick and mortar retailers can adapt to today's consumer and remain a relevant and positive part of their shopping journey.
In-store kiosk technology has taken the world of customer service one step further by offering a digital self-service channel.
Kiosks allow consumers to browse online from inside a retail store and give consumers more independence when making a purchase.
A rising component of in-store technology is the self-service Kiosk. Fill out the form to learn more about STORIS' in-store furniture Kiosk.

Learn 5 advantages of in-store technology that will improve the retail customer experience.
1. Increased Sales
Interactive Kiosks can supplement as retailers' "digital sales associates" as they generate complementary engagement and interaction with customers.
Kiosks can display retailer's special offers, discounts, and other marketing content that encourage customers to buy more.
Retailers who employ in-store kiosks as part of their dynamic customer experience can anticipate 33% more walk-in traffic & 32% higher sales volume (Olea Kiosks Inc., 2017).
---
2. Enhance Customer Service
In-Store Kiosks provide consumers with high-quality customer service by providing them with instant access to information about retailer's products and services.
Kiosks are convenient when searching for product pricing, availability, reviews, feature comparison, limited time offers, and more!
Kiosks also allow consumers to search for inventory in all of your retail locations.
---
3. Gain Consumer Confidence
Kiosks can be easily accessed on an as-needed basis and save customers time with their purchasing decisions. Customers gain confidence in a retailer that utilizes the latest technologies to improve their overall customer experience.
The ease of use, branding and overall ability of the kiosk solution builds consumer loyalty not only to the kiosk but to the retailer as well.
The more time consumers invest using interactive kiosk, the more they will feel invested and the more likely they will be to make a purchase.
---
4. Deliver Faster ROI
As consumer's expectations are surpassed using kiosk technology, they will most likely engage again which will increase sales. Increase in sales means an increase in revenue for retailers using interactive kiosks.
69%of shoppers say they would be more likely to buy if given self-help options in-store like digital displays and kiosks. (InReality)
A 5%increase in customer retention can increase a company's profitability by 75%. (Bain & Company)
---
5. Analyze Consumer Behavior
Kiosks have innovative features designed to analyze consumer behavior which gives retailers insight into how they can improve their operation to offer customers better shopping experiences.
Integrated Kiosks have the ability to access customer data, order history, and shopping carts.

In-store kiosks are revolutionizing the home furnishings industry by elevating the customer experience inside the retail store. STORIS' Unified Commerce Solution allows retailers to capture today's modern shoppers and maximize their revenue potential. With our fully integrated brick-and-mortar, eCommerce, mobile, and in-store kiosk technologies, retailers can deliver exceptional customer experiences.