A 12 Step Guide to Home Furnishings eCommerce
Why choose an eCommerce platform for your business?
With more furniture retailers having a presence on the web, it's crucial to set your website apart. From targeting the right customers to impressing them with a compelling web design, your eCommerce website for furniture plays a significant role in creating a seamless customer experience.
What is an eCommerce platform? An eCommerce platform is a software application that allows online businesses to manage their website, marketing, sales, and operations. (bigcommerce)
This guide highlights 12 steps that will help you build your own furniture retail website.

Fill out the form to discover why eSTORIS is the leading furniture retail eCommerce provider.

1. Technical Foundation
Integration to Retail: Integration to your retail management system is a competitive advantage. Managing inventory and customers across a multi-channel market can be streamlined through a unified commerce solution. The integration enables data on inventory, customers, deliveries, and orders to be shared between channels in real-time. An integrated tool that can be a game-changer is the digital Shopping Cart for home furnishings retail. Shopping Carts that are shareable between a website, in-store and mobile POS, and Kiosks improve the customer experience significantly.
Hosting for Cloud eCommerce Solutions: Many furniture website builders provide the option to host your website in a cloud environment. This is a great option for retailers looking for their technical partner to manage uptime, upgrades, and server maintenance.
Design Templates vs. Custom Code: Depending on the furniture website platform you choose, you may be able to begin creating a website to sell furniture through pre-defined templates that let you adjust colors, photography, and text through an easy-to-use Content Management System. For websites looking to grow their eCommerce presence, a custom design may be a strategic competitive differentiator. Some templates also have customizable features for a hybrid mix.
Actions to Help With Evaluations: Look to see a demo of the cloud eCommerce platform you are considering. Connect with the eCommerce team of a software company to discuss how their furniture website development can support your operational requirements. It will be important to review that company's website portfolio as well as ask for references from their website clients.

2. Design
It only takes a few seconds on your website for consumers to decide to shop or bounce. Designing the layout of your furniture website is critical for establishing trust and attracting customers. Pay attention to colors, layout, and the overall theme as your design ultimately tells your story. A clean, simple design furniture eCommerce site will help you create a seamless shopping experience."
Today, 52.2% of traffic is generated through mobile devices (Statista). It is important that you have a responsive design furniture e-commerce website so it can be accessed and shopped on any device. When making a website, designing "mobile-first" ensures your responsive design is optimized for multiple devices.
Product Photography Is Key to Standing Out.
Consumers are going to remember 80% of what they see and only a staggering 20% of what they read. (eCommerce platforms)
75% of consumers said the quality of website photos is the most important feature.
66% of consumers want to see the alternative angles of your product.
61% of consumers want to zoom in on the product photo.
(eCommerce platforms)

3. Navigation
Navigation is the backbone of your furniture eCommerce store. A retailer's website should have intuitive navigation and clean sitemaps that allows visitors to easily find what they're looking for. Plan a UX-focused navigation bar organized by specific categories such as Living Room, Kitchen, Bedroom, etc. Use a drop-down menu to show subcategories of products that fall under each main category, such as Sofas, Coffee Tables, Ottomans, etc. Navigation isn't an area to re-invent the wheel. Think logically as your consumers will.
Implement a UI/UX Design Strategy. By impressing visitors with a good UI/UX design, you can improve site traffic, convert visitors into buyers, and generate more repeat business.
What is UI?
UI stands for User Interface. UI design is what the user sees during their experience such as how everything displayed on a webpage aligns in relation to each other or how colors make the Call-to-Actions stand out. (ForgeandSmith)
What is UX?
UX stands for User Experience. It's the process of researching, developing, and refining all aspects of a user's interaction with a company to ensure the company is meeting the consumers' needs.
(Hubspot)
How do UI and UX work together?
A UX/UI designer is focused on the structure of the website and how the website is meeting users' needs. Proper market and user research will help a UX designer to create and convert a wireframe into a mockup. The UI designer will then take control of the overall appearance of elements including forms, images, buttons, links, and websites.
Wireframe: A mockup of placeholder images and text, typically used for planning a site's structure and functionality. Often thought of as a blueprint for building a home, it is an important step in building your online furniture shop.

4. Merchandising
By measuring a consumer's real-time browsing habits, preferences, and purchase history, retailers can tailor various product recommendations throughout their omnichannel website. This data helps consumers find better alternatives, add-on products, or bundled collections.
Combining overall consumer data with a shopper's activity provides retailers with different options to recommend, such as "Customers Who Bought This Item Also Bought."
Top Merchandising Strategies for Furniture Websites:
Recommended Products
Popular/Featured Products
Top-Selling Brands
Deals of the Week
Products Just For You
Customers Who Boughts This Item Also Bought
56% of online shoppers are more likely to return to a site that recommends products. (apruve)

5. Payment Processing
A payment gateway is an eCommerce service that processes credit card payments for the brick and click model. They fulfill a vital role in the omnichannel eCommerce transaction process, authorizing the payment between merchant and customer. (BIGCOMMERCE)
Payment Integration: When a retailer's payment gateway integrates with their furniture eCommerce platform, customers don't have to leave the website to enter their payment information and complete their purchase. This makes the checkout experience seamless and builds consumer trust.
Security: For retailers accepting online payments, you must meet the requirements of the Payment Card Industry Security Standards Council (PCI SSC) for SSL certificate installation. These requirements are to ensure that merchants are using the latest technology to facilitate secure communication.
Financing: Offering consumer financing options can result in higher average ticket revenue and customer loyalty. Many consumers are unable to afford a furniture purchase with complete up-front payment and need access to credit to make their purchase.
Fees: Every credit card processor has its own fees and ways of determining those rates. Some may have fixed costs per transaction, while others have variable percentages or fees. The right choice for each business depends on prices and sales volume.
64% of online payments in the US have grown approximately 4x as much as retail payments in the last four years. (Chargebee)
19% is the approximate percentage of online transactions of a person's total expenditures per year. (Chargebee)

6. Shipping
Develop a Successful Fulfillment Strategy. Once you are positioned to convert online orders, determine shipping and delivery options that best fit your business strategy.
Shipping Options
Free Shipping: Free shipping is a popular selling point for many consumers.
Who will benefit: It is easier for a retailer to offer free shipping on items with a large margin.
Flat Rate: Some retailers offer the same shipping rate regardless of which products are purchased. A good practice is to first calculate how much it will cost on average to ship an order. This will help determine if retailers can afford this offer.
Who will benefit: Businesses selling similar-sized items or low shipping costs.
In-Store Pick-Up: Invite customers to pick up their orders in-store. In-Store pick-up will allow for a face-to-face business experience.
Who will benefit: Retailers that offer large items and those looking to drive store traffic.
Reduced Shipping or Free Shipping Over a Certain Order Value: If customers exceed a certain order value, it's a great way to reward or thank them.
Who will benefit: Stores with high-end products or those looking to build customer loyalty.
97% of consumers consider tracking an order as a key feature.
24% of shoppers are willing to spend more to qualify for free shipping.
82% of consumers are more likely to shop at a website if they don't have to pay for shipping.
(eCommerce Platforms)

7. Digital Marketing
It is critical for retailers to build their furniture website as their flagship store. Once you lay the technical foundation of a great omnichannel website, you have to focus on your digital marketing strategy.
Content Marketing: Creating educational content that is relevant to your audience will position your business as a trustworthy industry leader. Some examples are style blogs, "shop the look", room planners, videos, infographics, in-depth guides, and Artificial Intelligence (AR)/Virtual Reality (VR).
Email Marketing: Email Marketing is a powerful method of communication. Retailers can segment their email lists and delivery times for when their messages are delivered. Having an opt-in box on a retailer's website invites people to sign up for their mailings. Some retailers have gone one step further and offered an incentive to consumers for subscribing.
Social Media: It's imperative that retailers have a significant presence on social media as consumers use these sites to evaluate brands, research products, and make buying decisions. Social media can help retailers build brand recognition. Locate which social channels your target audience uses and make sure to listen to customer feedback on those channels. Promote your business with branded pages and create a "sell" feature directly on social pages that can increase your revenue.
Pinterest: Pinterest is the ideal platform to reach consumers early in their research stage. They use Pinterest to plan and search for future purchases. It allows retailers to share and save inspiration for their home.
Twitter: Allows retailers to quickly jump into the conversation with customers. Address customer concerns and comments, market promotions, and survey consumers.
Instagram: This is an excellent platform for showcasing your business through photos and video as well as communicating with your customer base. Instagram stories allow retailers to connect beyond words and photos.
Facebook: A highly versatile network that enables you to reach and engage your consumers and their communities in a variety of ways. A business page allows businesses to display company information, reviews, photos, and more.

8. SEO
Google reigns supreme for the organic discovery of your website. Search Engine Optimization (SEO) is the single most important digital strategy to make your website successful.
What is SEO? SEO is a methodology of strategies, techniques, and tactics used to increase the number of visitors to a website by obtaining a high-ranking placement in the search results page of a search engine. (webopedia)
On-Page SEO: The techniques you make directly to a webpage to facilitate higher rankings such as optimizing keywords, content quality, and content structure.
Fundamental elements include:
Informative, Readable Text

Simple URL Structure

Significant Title Tags

Meta Descriptions

ALT Image Tags Describing the Product

Keywords Customers Are Searching For



Off-Page SEO: All of the SEO practices that impact your website as a whole such as its domain authority, backlinks, link relevancy, site speed, and social media exposure.
Link Building: Credibility earned when another high authority website finds your site informative and links to it.
Research: Retailers want to make sure they are ranking for the search terms that best attract their customers.
Keyword Research: Determining the words your customers are using to find your website.
Competitor Research: Gather intel on the keywords your competitors are ranking for and other websites that are linking to competitor websites.
Recommended Tools:
SEMrush: Use this tool for competitive keyword research.
Moz: Use this tool to research backlinks for a particular URL and identify link-building opportunities for your website.
Optimize: Strategically incorporate your keywords into your page titles and descriptions, including meta titles and descriptions, headers, and text. Create unique content including engaging product descriptions instead of copying manufacturers' standard descriptions.
50% of surfers on the web expect sites to load in 2 seconds or less. (Quaderno)

9. Measure & Analyze
Establishing methods to assess the effectiveness of a retailer's digital efforts is just as important as putting optimization strategies in place. Retailers can analyze their metrics through their platform's reporting and through Google Analytics.
Why Track Metrics?
Aid in making informed business decisions
Maintain performance accountability
Give focus to key drivers of success
Provide insight into improvements to make
Learn how to increase sales and revenue
Below are 6 important Key Performance Indicators (KPI's) to track: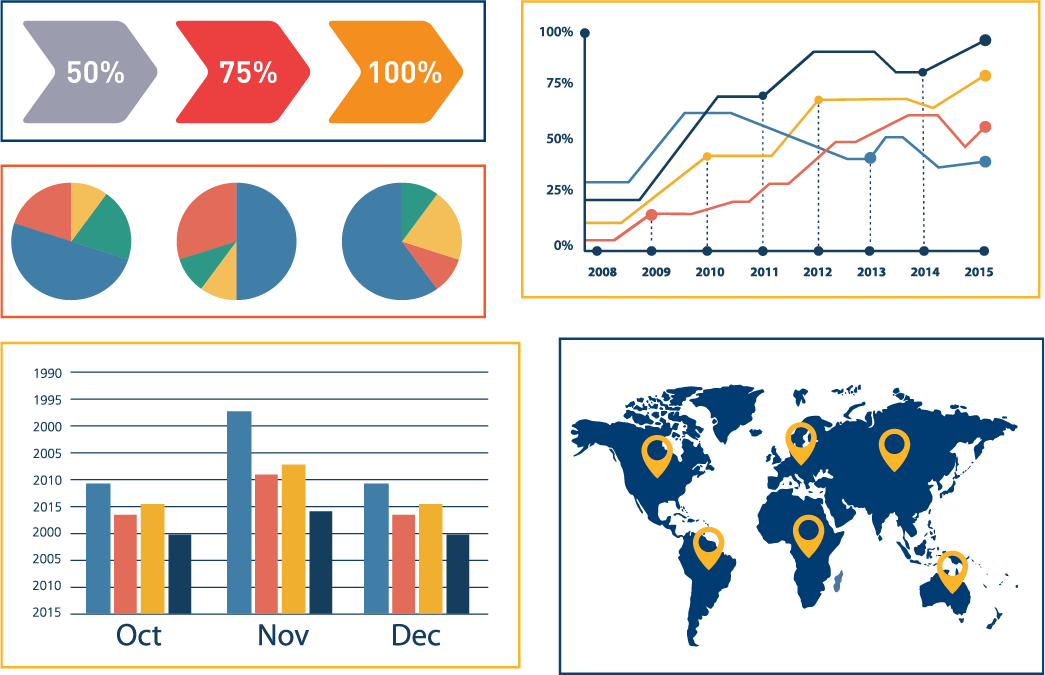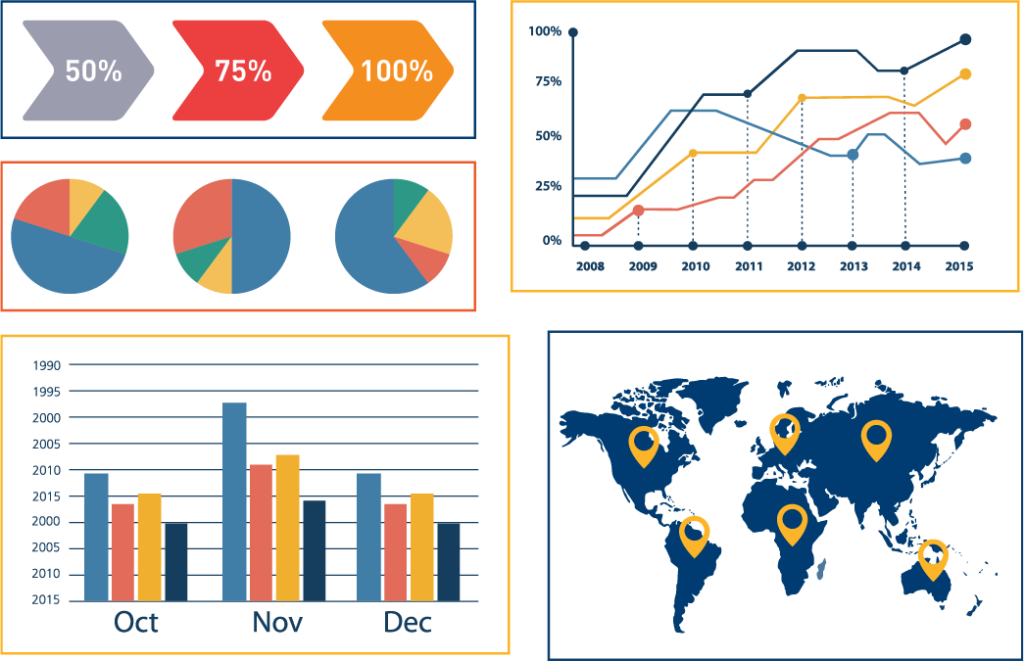 Visitor Traffic: Evaluate metrics such as the traffic coming to your site, how long visitors are on the site, average page views, and bounce rate.
Conversion Rate of Visitors: Retailers should first determine the intention of their website: sales, brand recognition, communications, etc. Then, to find their conversion rate, divide the number of visitors who performed their desired action by the total amount of visitors.
Average Value Per Transaction: Pay attention to the number of items your average customer purchases and the average value of their cart. Add product suggestions based on customers' selections as well as free shipping over a certain value to incentivize customers.
Cart Abandonment Rate: Make the checkout process simple with as few clicks as possible. Ensure all relevant information such as order information, shipping, and billing are clear. Use remarketing email campaigns as a resource to give customers a reminder that they have items in their cart.
Engagement of Email Subscribers: Use email campaign tracking tools to measure your delivered emails, opens, clicks, and click-through ratio. These metrics will indicate the effectiveness of your campaigns.
Bottom Line Net-Profit: Increasing eCommerce efforts sometimes means an increase of expenses for items such as payroll for a web team and the cost of third-party website management. Retailers should make sure their revenue exceeds expenses and track their eCommerce profitability.

10. Conversion
How to Improve Conversion Rate?
1. Make It Easy: Retailers want to design an easily navigated path to purchase. Put yourself in the shoes of your consumer and walk through your own checkout procedure.
2. Reduce Steps & Screens: Make sure each one of your checkout steps serves a purpose.
3. Use Auto-Fill: Utilize cloud eCommerce software to auto-fill information for return customers or based on browser settings. This includes a customer's first and last name, billing and shipping address, email, and saved payment options for a faster purchasing experience.
4. Clearly Articulate Expectations: When a customer is ready to make a purchase, have a progress bar to show how many steps to complete the purchase. A progress bar will distinctly communicate the customer's position in the sales funnel and the number of steps left. In addition, with eCommerce merchandising software, make sure that during each step all the product and delivery information is displayed clearly. This will ensure trust and ease in the buyer's decision to purchase from your online store.
5. Order Confirmation: Sending your customers a confirmation email regarding their purchase details is another best business practice. Communicate regularly on when an item is getting ready for delivery and other key milestones leading up to fulfillment.
Websites see a 28% increase in conversion rates when using a checkout progress bar. (bouncepilot)

11. Customer Management
An eCommerce customer portal should have a dashboard for customers to create, view, and manage their accounts. Retailers that put control and information into their customers' hands increase satisfaction. Customer Accounts can help foster repeat sales while building a better customer relationship. By creating an account, customers are able to view open orders, order history, check on the delivery status, update a delivery date, and save payment and shipping methods. This allows for a faster checkout experience.
Customer Tools
Saved Shopping Carts: Allow customers to continue their shopping experience when they return to your site. Saving user sessions allows the customer to access the products they were interested in without having to search for them again. They can also access this cart in a store.
Wishlists: A method for consumers to digitally window-shop. You can use the data from wishlists to run specific email marketing campaigns and for your sales strategies. In addition, visitors can also share their wishlists with friends and family, ensuring the products on their lists are something they really want.
Designer Board: Customers can mock up their vision with a design board. They can create layouts to see how products will fit in their room and work on large-scale room designs.
Collaborate with a Designer: Go the extra step and allow your designers to mock-up your customer's vision and share it with them online.
GDPR Compliant: The ability to ensure your website is GDPR compliant for members of the European Union visiting your site is imperative. Your website platform should enable you to maintain an up-to-date privacy policy, communicate opt-in messaging to email subscribers, and alert users to your use of cookies for tracking.
GDPR: The General Data Protection Regulation (GDPR) is a legal framework that sets guidelines for the collection and processing of personal information of individuals within the European Union. (Investopedia)

12. Reviews
5 Ways that Positive Customer Experiences and Ratings Can Benefit a Retailer's Website
1. Increase Sales: People are researching products and company reviews before making a purchase. Reviews eliminate doubts customers may have and ultimately give consumers the proof they need to validate their initial interest and make the decision to buy.
2. Brand Recognition: Customer reviews from peers help build trust and reputation. It's digital word of mouth.
3. Promotional Marketing: Satisfied customers that write your company a positive review on different review channels, such as Yelp, are helping you receive free content marketing. Reviews also set you apart from competitors with the same products. Positive reviews can be used as testimonials in marketing content, social media, and on a retailer's website.
5. Impact Local SEO: Having reviews on websites such as Yelp, which have a high Domain Authority, can help businesses rank higher on Google. Online reviews make up about 10% of how Google and other search engines decide to rank search results. (Shopify POS)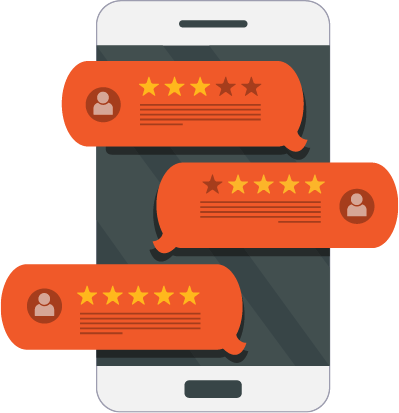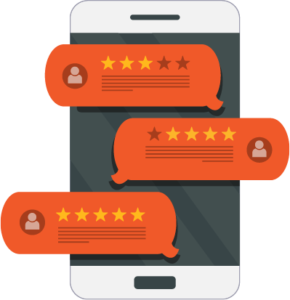 Turning Negative Reviews into a Positive
Negative Reviews: Treat each review as a conversation. Retailers can respond to the review, offer to make up for their customer's dissatisfaction, and if earned, in return ask for another review.
Listen to your customers. Turn negative reviews into positive takeaways by creating stronger policies, improving product offerings, and enhancing customer service.
3 Keys to Customer Satisfaction
1. Product Quality: Products and Services provided need to be of the value that you promise.
2. Customer Service: A positive and friendly team that strives to meet and surpass customer expectations.
3. Educating Users: Online chat, how-to videos on your website, and competent instructions that support the experience.
Consumers are likely to spend 31% more at businesses with excellent reviews. In fact, 85% of shoppers trust online business reviews as much as personal recommendations.
(BrightLocal)
An integrated eCommerce POS System is essential in today's home furnishings retail market. Retailers need to become more adaptive to the new tech-savvy consumers who are embracing more channels and devices. The internet has become not only a suitable channel for research but also provides consumers with a consistent and seamless omnichannel shopping experience.
With the addition of an integrated eCommerce suite, your business can gain the competitive advantage you need to succeed.

What is eSTORIS?
eSTORIS delivers the integrated furniture eCommerce software developed uniquely for a Unified Commerce strategy. It is directly connected to STORIS' in-store POS, mobile devices, and kiosks, all provided by the industry's trusted technology partner. This enables retailers to provide a consistent experience between the customer shopping online and visiting a store.
eSTORIS Furniture Web Design
eSTORIS allows retailers to design and create a website to sell furniture that is sophisticated and functional. They can choose from our responsive design templates or work with design professionals on a custom website. In addition, UI/UX design services are available to optimize the eCommerce experience for conversions.
Advanced Inventory Integration
Real-time integration with STORIS enhances inventory management across channels and helps manage product families and kits. Customers can view inventory quantities and accurate pricing with dynamic displays based on stock availability.
Customer Tracking Features
eSTORIS allows retailers to create customer log-ins that match their in-store POS and website through a customer's email address. Retailers can also retain customer history through their STORIS database. Customers can create shopping carts across channels, easily check their order status, and manage their shopping history.
Website Management & Services
The STORIS team provides professional services including functional and technical support. A project manager will provide a detailed implementation plan. We offer core training to help your web team learn our built-in content management system. It is user-friendly and easy for retailers to control their day-to-day website management.
Having a dynamic eCommerce website enables retailers to actively participate in their customers' shopping journeys. eSTORIS technology for your home furnishings website will help integrate your sales channels and ultimately increase convenience, drive traffic to your stores, and maximize revenue potential.
Whether you are operating an established eCommerce site or need help creating one, the STORIS eCommerce team is here to help!