Consumer shopping behavior underwent a seismic shift due to the COVID-19 pandemic, and the home furnishings industry quickly adapted. During shelter in place in the Spring of 2020, online shopping rapidly increased. In fact, over just an 8-week period, global usage of eCommerce surpassed projections that were two to three years out. (zoovu)
While customers have regained comfort with physical shopping experiences, many still appreciate the digital and self-service shopping options that started during the pandemic. As a result, these changes in customer habits have become permanent fixtures of modern shopping experiences.
Customer Habits That Stuck
With the rise of eCommerce, retailers find customers come into their stores prepared with product research and high intent to purchase. Meanwhile, many customers continue to enjoy the convenience of the eCommerce channel as their direct method of purchasing. Additionally, newer practices such as scheduled appointments and curb-side pick-up remain as they allow for convenience while balancing shopping with busy lives.
Integrating Technology Trends
Implementing technology into a retailer's business strategy is essential to adapt to a fast-changing home furnishings industry. As a retailer, providing exceptional customer experience is always a top priority. Innovative technologies increase convenience and expedite customer service.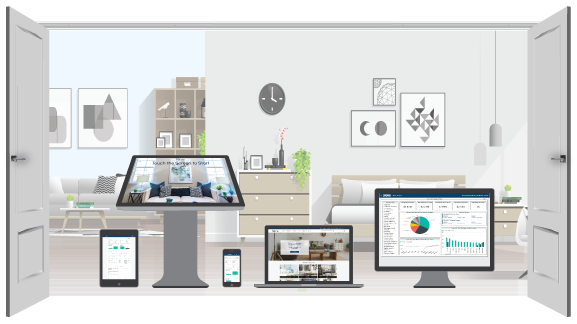 Let's dive into how software solutions add convenience to retail experiences.
Setting Appointments
Appointments are an example of a practice that arose for pandemic safety but stuck due to convenience. They allow busy customers to schedule dedicated time with a consultant, perhaps someone they've already reviewed options with through other communications. Also, sales associates can shine when they offer dedicated attention to customers.
Customers set appointments via phone, email, or websites. STORIS NextGen Customer Experience Management (CXM) technology can be used to assign appointments to a specific sales associate. CXM applications enable associates to track key details to help them plan their use of time during the customer's appointment and make for efficient use of their visit.
---
Showroom Mobility
Empowering your sales associates with mobile devices to gather customers' information and create shopping carts as you walk through the showroom leads to an efficient checkout process. Mobile devices also provide detailed product knowledge. To limit waiting in checkout lines, retailers are using mobile solutions for point of sale. Simply taking payments on a pre-built shopping cart can cut out many of the steps in the traditional checkout process. This contributes to a convenient and enjoyable customer experience.
---
Self-Service
The trend toward self-service technology has been on the rise. In fact, 75% of consumers favor self-service technology to improve the retail customer experience. (Insight.tech)
Via Kiosks, customers can access product information without engaging with a sales associate if that is their preference. Customers can comfortably use a kiosk to browse product selections and independently build their shopping carts.
Separately, through STORIS' Forms Designer, retailers can easily print QR codes on hang tags. Self-service customers can scan products of interest with their own mobile devices. The code will launch them directly to the product page on a retailer's website. They can add selections to their shopping cart or gather information independently.
---
Reducing Paper
For contactless practices during the pandemic, many processes went paperless. This is another trend that continues as it is preferable and sustainable. Emailing receipts and pertinent documentation provides an easy way to reduce paper. Further, electronic signing for documents reduces paper documentation for ease of organization. STORIS' Document Signature Capture technologies allow retailers to merge an electronically captured signature into a PDF document that can be emailed to the customer.
---
Self-Service Credit Applications
Financing programs can be a valuable way to meet customers' financial needs. Without technology, financing is a time-consuming process. STORIS' Customer Facing Application (CFA) or use of a third-party application solution via our APIs provide ease and privacy for customers completing a credit application. Allowing customers to apply from their own mobile devices while in-store improves the customer's comfort level. Further, through integration into a Finance Queue, customers can quickly choose to run their applications against multiple lenders until they achieve their desired financing.
---
eCommerce

As a Tool

Meeting customer demand requires a greater focus on integrating eCommerce into the shopping experience. As supply chains fluctuate, displaying real-time inventory availability is paramount. Product messaging, such as "in stock," "on display," and "available by," provides customers with the information they need to make buying decisions. Customers may need assistance while online. Providing an online chat feature has become an ideal solution to offer immediate service to customers with questions.
---
Convenient Delivery
To accommodate new customer expectations, curbside pickup and delivery for in-store and online orders have become more prevalent for retailers. Eliminating the requirement of signatures and communicating via text or email further expedites the delivery process and lessens customer scheduling burdens.

---
Real-Time Insights
As the retail environment is continually changing, retailers need access to real-time reporting to make informed choices that are right for their businesses today. Business Intelligence provides insights on emerging sales trends to turn more inventory, devise promotional strategies, and grow margin performance. With continued shifts in supply chains, reviewing lead times and adjusting buying patterns can help assure retailers' warehouses are adequately stocked. Alternatively, retailers can use insights to determine As-Is merchandise and markdowns to clear out slow-moving inventory that may be taking up space in the warehouse. STORIS' real-time reporting capabilities guide strategic decision-making.


Leverage Technology for Today's Customer Expectations
Retailers can use innovative technologies to meet new customer expectations and make interactions more convenient. Retailers are investing in technologies adaptable to dynamic shifts in consumer behavior. STORIS' Unified Commerce Solution is developed to support your technology initiatives. Our software delivers real-time, integrated features that enable retailers to provide an exceptional customer experience across all channels and retail environments.