A Tale of Two Holiday Shopping Experiences
During the holiday season, I had two starkly contrasted shopping experiences that as a writer of technology and customer experience, I found eye-opening.
I was a terribly last-minute holiday shopper this year despite my best efforts to plan and start early. So on December 23rd, I was rushing around to buy a new cooktop as a gift for my parents from myself and my siblings. I had read tons of reviews in preparation, however, failed to make the purchase until the last minute. At 7 pm, I found myself Googling local retailers for inventory on my desired cooktop. If the site didn't have online prices or the ability to check for stock, I simply closed out of the window. I was thrilled to find a store with extended holiday hours and the exact model I wanted in stock, ready to place under the tree.
Well if you didn't believe my luck, you were correct. I arrived at the store and spent the next ten minutes walking around the kitchen appliances section aimlessly, with no associates in site, and failing to locate the model. Finally, I was able to track down some help. I pulled up the information on the product I wanted, and the associate checked their POS confirming one unit in stock. Phew! Unfortunately, I became slightly frustrated again with the difference in online and in-store pricing. Given my lack of time and choices, I decided to use the purchase online and pick up in-store option. The associate headed to the back to retrieve the product.
After over 15 minutes of waiting, a visibly upset associate came to the service counter and notified us that ultimately the product was not in their store. He had looked everywhere, but he admitted that their inventory systems were so outdated and have been incorrect all holiday season. His reaction told me this was a recurring theme. Worse yet, as I watched the associate click through green screen after green screen, they determined they couldn't cancel my online order from the store system. It would have to be processed and refunded after some time had passed. I had just spent several hundred dollars on a non-existent product. Poorly executed technology and a lot of wasted time were disappointing to my Christmas Eve and left me with a poor impression of the retailer.
Ready to Learn About the Benefits of Inventory Control?
Request a Demo
Thank you for taking the first step to learning how STORIS' Inventory Management Solution can serve your retail business.
Luckily, I was close to another local retailer. After briefing them on what just happened at their competitor, that retailer used the situation as an opportunity to let their customer service shine. They went above and beyond to provide a great experience and ensure I left a happy customer with my gift ready to go under the tree. I left a glowing review on this retailer's website. They were able to capitalize on some of the downfalls of a competitor's technology.
On the flip side, things had gone a lot better from the comfort of my couch just a week earlier when I was struggling to find gifts for some of the "hard to shop for" people in my life. Sometimes it is important to look at models outside of the industry for inspiration. That brings me to Etsy, a marketplace that earned 4 unique purchases from me this holiday season. They did just about everything right. First, it is important to note that I shopped their site from multiple devices. Each time picking up right where I left off, despite switching tech. Etsy's products are well indexed on Google and I found the perfect products I didn't even know I was looking for through organic search.
Once on their website, the information on the product was crystal clear; available quantities, anticipated delivery, total cost, holiday promotions, customer reviews, seller feedback, and comparable items. If I had any questions, the messaging tool let me communicate directly with the seller, and most answered in real-time. These features helped the confidence in my purchases sky-rocket. If I liked the seller's response, I could complete my purchase with just one click from the messaging tool. The UX for navigating to recently viewed products, product suggestions, vendor conversations, my orders, cart, and saved items was designed with convenience in mind. Better yet, the order summary screen showed me everything related to that purchase in an organized manner and even where my product was in real-time during the delivery phase. Perhaps the best thing Etsy did was communicate with me in the right cadence. On the last week before Christmas, I got a few push notifications for items that could arrive before December 25th that I might like based on my previous purchases. They earned repeat business because the experience was convenient, user-friendly, reliable, and extremely pleasant.
After all, was said and done this holiday season, I was left with three key takeaways for retailers.
I found myself thinking that retailers failing to keep up with the times are similar to providing a customer shopping experience during a power outage. A snowy night can occasionally knock out the power in my hometown in Northern New Jersey. Each time, I am instantly reminded of how much our lives revolve around technology and more importantly how we take it for granted. Retailers that are doing a fantastic job using technology to enhance their customer experience make their competitors seem like they are in the dark ages. Having an experience with a retailer not offering modern shopping amenities makes the customer rethink why they would choose to purchase from that business, especially when many retailers are doing great things.
My next takeaway was just that. Sometimes we go to the same retailers out of habit, but why? I shopped at many retailers I hadn't tried before this holiday season and was pleasantly surprised by the experiences I found. Don't be the retailer consumers are leaving, be the gem they are finding. Digital marketing and search engine optimization provide an opportunity for retailers to win new business. Also, when you can let the human side of your customer experience shine through, take it and run with it.
And finally, it is important to note that the first retailer in my tale of two shopping experiences is trying to move towards modern retail practices, but it is imperative to do technology the right way. Patching and plugging make-shift options into outdated solutions yielded the first outcome. To make these efforts count, the technology your business relies on must be trustworthy so that your associates can trust in the service they are trying to provide and your customers can trust your business too.
As you can see, technology is powerful and depending on how retailers utilize it, can make or break a business. Maybe not today or tomorrow, but these experiences will leave a lasting impression on your consumers.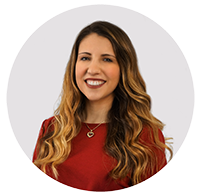 Written by Caitlin Jascewsky. Caitlin writes STORIS' educational content and manages STORIS.com, focusing on how retailers can use technology to enhance their customer experience. A graduate of the Fashion Institute of Technology, Caitlin worked in retail for 7 years before joining STORIS.


When you choose , you get more than a revolutionary retail software solution. You get the know-how of our team of experts, superior service, and opportunities for growth. Use the form below to learn what can do for you.