STORIS Introduces New Kiosk Technology
September 29th, 2017 by the STORIS Marketing Team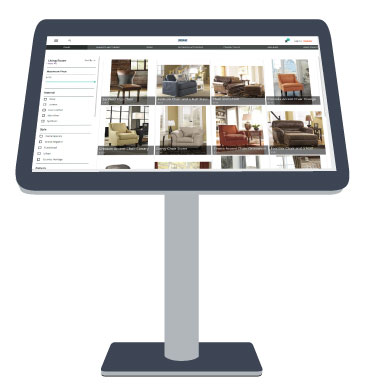 Mt. Arlington, NJ– STORIS will be showcasing our all-new Kiosk solution at the upcoming High Point Market. STORIS' Kiosk brings a key component of in-store technology to home furnishings retailers. Today, consumers are actively seeking out kiosks as a digital experience in brick-and-mortar retail. KioskIndustry.org states that "studies show an average of 7% increase in incremental sales when kiosks are added. Compelling investment returns also include improved customer experience and reduced inventory costs."
The STORIS Kiosk's core functionality will be to catalog a retailer's inventory, access customer history, and most importantly, unify the STORIS shopping cart. STORIS' Kiosk solution integrates seamlessly to STORIS' ERP and eSTORIS eCommerce platform.
Technology has always been important to retail stores, but the Kiosk provides a fundamental shift from traditional and mobile POS solutions. It puts the experience literally at the customer's fingertips. STORIS has designed our Kiosk to be the bridge between the at-home and traditional in-store technology experiences. As research proves, customers first start engaging with retailers through their websites in their homes. When they do decide to shop that product in-store, the Kiosk allows them to pick up right where they left off.
To start the in-store buying experience, the salesperson can view a customer's cart selection with them in an engaging manner. This helps the salesperson focus on the customer's desired price points and styles. From there they can guide the shopping experience to a seamless close. The salesperson can also access the customer's cart on a mobile POS tablet when moving around the showroom, with data updating from the Kiosk in real-time.
Additionally, the concept of the endless aisle is an inventory strategy being driven by consumer demand. Using a Kiosk within a showroom vignette highlights additional options available to the consumer. This allows retailers to sell more with less inventory on hand; digitizing the traditional catalog experience.
"We brought Kiosks into our booth several markets ago because they allow our retail visitors to do exactly what customers in-store want to do; interact with the technology themselves. We've demonstrated our retail and eCommerce solutions before, but this October those Kiosks will be showcasing our new Kiosk solution now available to our retailers," states Donnie Surdoval, Product Manager.


When you choose , you get more than a revolutionary retail software solution. You get the know-how of our team of experts, superior service, and opportunities for growth. Use the form below to learn what can do for you.