STORIS Launches New Integrated eCommerce Solution, eSTORIS
January 18th, 2017 by the STORIS Marketing Team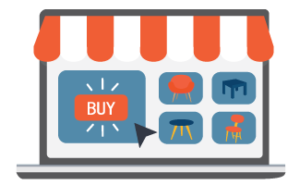 Mt. Arlington, NJ– STORIS Leading Retail Software Solutions has released their all-new eCommerce platform, eSTORIS. eSTORIS is a complete web solution that fully integrates with STORIS' retail software solution. eSTORIS allows STORIS clients to utilize the provider they know and trust for their website development, which makes the once challenging integration portion of eCommerce seamless and reliable. The integration provides real-time syncing for shopping carts, sales orders, inventory availability, pricing, images and customer profiles.
Top 100 Retailer, American Furniture Warehouse was one of the first STORIS clients to launch a new eSTORIS website (www.AFW.com) in October 2016. Vice President Jackie Brookshire stated that "AFW's online business has increased by 30% each month since launching our new eSTORIS website. Our customers love the new features and the integration with our STORIS point of sale makes order fulfillment seamless. Unified Commerce accomplished."
The eSTORIS platform uses the latest frontend website technology. All designs are responsive to optimization across mobile devices and mobile search engine performance. Mobile is where the vast majority of today's consumers begin the buying journey and the platform where revenue is seeing the most rapid growth rates.
One of the most important aspects of the new eSTORIS platform is STORIS' approach to client services. STORIS' eCommerce technology is supported by its own development, implementations and consulting division within the company. eSTORIS clients receive dedicated project management and training on the built-in content management system. Also, as eSTORIS is continuously enhanced and developed, the integration from STORIS to a retailer's website will be safeguarded accordingly.
Kaitlin Surdoval, who manages STORIS' eCommerce initiatives, stated that
"As a company, STORIS is investing heavily in eCommerce, because it is a critical area of future growth for our clients. This is where the leaders are investing their technology resources and focusing on enhancing their consumer experience. Both our technology and dedicated teams are focused on helping them succeed."
eSTORIS will be showcased at the upcoming Las Vegas World Market in January or you can learn more about eSTORIS today by contacting STORIS here.


When you choose , you get more than a revolutionary retail software solution. You get the know-how of our team of experts, superior service, and opportunities for growth. Use the form below to learn what can do for you.