Special Order Products Now Saleable on STORIS eCommerce Solutions
May 21st, 2021 by the STORIS Marketing Team
The ability to sell customizable, Special Order merchandise via an eCommerce website is now available to home furnishings retailers through STORIS. This is a highly anticipated new feature of STORIS' web solutions, eSTORIS, and STORIS APIs.
STORIS' Special Order capabilities for eCommerce extend the products retailers can sell via eCommerce, further expanding the revenue potential of this channel.
The automatic integration of options from a centralized database streamlines inventory management while providing customers with valid selection options and pricing. This new Special Order functionality also delivers an intuitive User Interface for customization, helping customers confidentially design their desired product.
As part of STORIS' Special Order solution re-designed last year, retailers can build configurable product SKUs with customizable attributes, pre-defined selection options for each attribute, and associated pricing increases related to the customization. The configurable options set up in STORIS' inventory management system translate to the Special Order items a retailer sells on their website. Retailers have flexibility with a setting, "Available on the Web," controlling which inventory displays on their websites.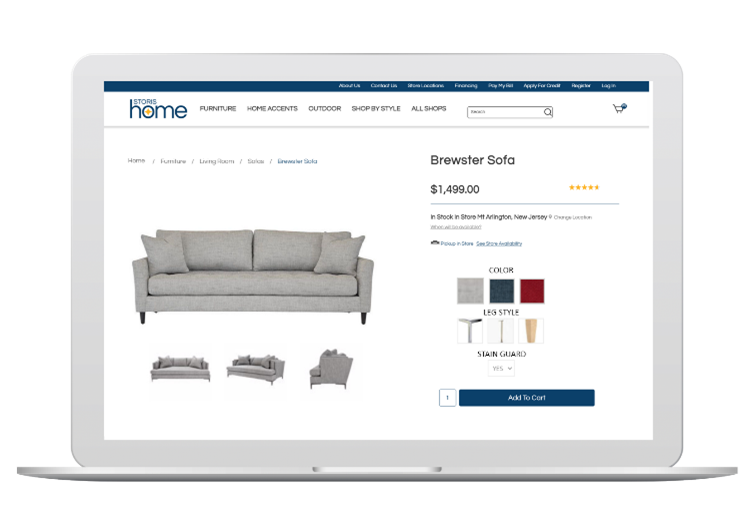 As eCommerce is consumer-facing, valid options for each attribute will need to be presented to the customer. On the eSTORIS platform, the Product Page for Special Order merchandise has been redesigned to add customizable attributes and their drop-down selections.
By default, the options will display as a drop-down list. Retailers also have the option to use image squares to display visuals such as color swatches or finishings. A new section of the Administration in STORIS' eCommerce solutions will provide control over Special Order image options. If the options have additional charges associated, such as enhanced fabric grades or special hardware, the price displayed to the customer will recalculate when selected for transparency.
STORIS' eCommerce Product Manager, Pete Dressler comments, "Special Order merchandise is a significant sector of our furniture retailers' businesses. We are thrilled to provide our retailers with this Special Order functionality on our website platforms. This expands the products they can translate and sell on their websites, while offering an intuitive workflow for the self-sufficient customer to make valid choices."
Retailers using eSTORIS or STORIS APIs can begin selling configurable, Special Order products on their websites today! STORIS Release 10.4+ is required.
Retailers that are interested in learning more about STORIS' Special Order for eCommerce today can Request a Demo or call (888) 478-6747.


When you choose , you get more than an industry-trusted retail software solution. You get the know-how of our team of experts, superior service, and opportunities for growth. Use the form below to learn what can do for you.